30 years after actress Natalie Wood died in a mysterious yachting accident off Catalina Island, the Los Angeles County Sheriff's Office has decided to reopen the case — apparently after hearing that the yacht's captain has more to say.
A law enforcement source added that the department recently received a letter from an unidentified "third party" who said the captain had "new recollections" about the case. The source spoke on the condition of anonymity because the case was ongoing.
It's a stunner.
Natalie Wood's death has always been mysterious at best and at worst, suspicious. As noted in our loop Death By Yacht, the actress died while spending the night on the yacht Splendour with two other men: her husband, Robert Wagner, and their friend, the actor Christopher Walken. It was November 28, 1981. Walken and Wood were filming the movie Brainstorm together at the time.
Some drinking was being done, Wagner and Walken got into an argument, and at some point Wood left the two men to go to the bedroom — all those facts have been generally accepted. Wagner reported that when he got to the bedroom himself later that night, his wife wasn't there.
Eventually a search began. The next morning Wood's body was found floating face-down in the ocean a mile away, dressed in a nightgown, socks, and a down jacket. The yacht's dinghy was found drifting even farther away.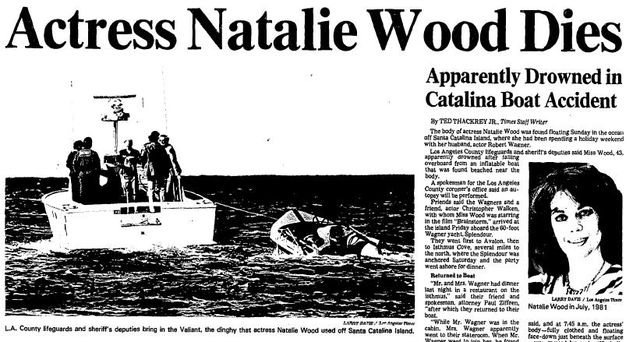 Wood was a big star and her death was a huge news story. Los Angeles County Coroner Thomas Noguchi — known by then as "The Coroner to the Stars" for his many high-profile autopsies — examined Wood's body and the evidence and returned a ruling of accidental death.
Noguchi covers the case in detail in his 1983 book Coroner. He admits that the case was confounding, but his explanation was that Wood had likely slipped and fallen overboard after untying the dinghy and trying to get in. Her cheek was bruised and she had a blood-alcohol content of 0.14, and her down jacket could quickly have become waterlogged. Noguchi decided Wood had fallen, hit her face, and her body and the dinghy then both floated away from the yacht.
That was the official determination, but it didn't stop speculation. For one thing, nobody knew why Wood would be trying to untie a dinghy late at night. (Others said she was actually trying to tie up a dinghy that had got loose.) And if she fell into the water, why did no one hear her? Hollywood gossips hinted that Walken and Wagner had been fighting over Wood, although Wagner has since said that they were really fighting about Walken's opinion that Wood should put her work ahead of her family.
CBS News has the yacht captain, Dennis Davern, now saying "I believe that Robert Wagner was with her up until the moment she went in the water." Which is a pretty aggressive statement. Davern also has this to say about the coroner's determination that Wood was getting into the dinghy:
"That story is 100 percent false… Natalie would never, in a million years, take that dingy out by herself. She would have gotten me."
More to come, undoubtedly.
Read more about the case in our feature Death By Yacht »
(Photo supplied by WENN)