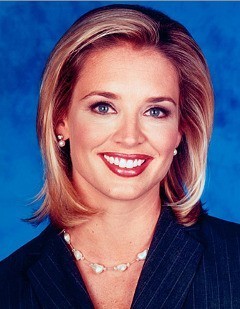 Laurie Dhue returned to Fox News yesterday, however briefly.
The winsome blonde newsreader happened to be on JetBlue flight 191 yesterday, the one where the pilot left the cockpit and began screaming about "bombs, al-Qaida, terrorism, Iraq, Afghanistan" before passengers tackled and subdued him.
The co-pilot made an emergency landing in Amarillo, Texas, and everyone survived. That was Dhue's cue to phone in to her old employers at Fox News with an on-the-spot report:
"He said, 'Let me in, let me in… We gotta get this plane down, we gotta get this plane down.' And he's trying to punch in the security code to get in, and the flight attendants which were at the front of the plane were trying to stop him from doing this. Fortunately, he was not able to get into the cockpit because he was having a breakdown of some kind. Immediately after that happened, several huge men, who happened to be sitting in the front of the plane… rushed down the aisle, rushed the captain of the plane, wrestled him to the ground in a matter of seconds, and got him subdued pretty darn quick."
Laurie Dhue left Fox News in 2008, with the two sides saying they couldn't agree on a new contract. Last year she told the Today Show that she had struggled with alcoholism while she was on the air. Nice to see her back in action.
See our Laurie Dhue biography »