Alex Trebek, the host of Jeopardy! since 1984, announced this week that he has been diagnosed with stage 4 pancreatic cancer. In a video released by the show (above), he said:
Hi everyone, I have some news to share with all of you and it's in keeping with my longtime policy of being open and transparent with our Jeopardy! fan base. I also wanted to prevent you from reading or hearing some overblown or inaccurate reports regarding my health. So therefore, I wanted to be the one to pass along this information.

Now, just like 50,000 other people in the United States each year, this week I was diagnosed with stage 4 pancreatic cancer. Now normally, the prognosis for this is not very encouraging, but I'm going to fight this, and I'm going to keep working. And with the love and support of my family and friends and with the help of your prayers also, I plan to beat the low survival rate statistics for this disease.

Truth told, I have to! Because under the terms of my contract, I have to host Jeopardy! for three more years! So help me. Keep the faith and we'll win. We'll get it done. Thank you.
It was a typically calm and self-effacing announcement from one of the great pros of the television business. Besides the rather good joke at the end, his note that he is one of 50,000 people diagnosed in the U.S. each year is an open-minded and open-hearted touch.
What now? Although he didn't release details, chances are that he'll receive chemotherapy. To say that the prognosis is "not very encouraging" is putting it mildly: Stage 4 means that the cancer has spread from the pancreas to other parts of the body like the lungs, liver and bones. The American Cancer society says that the 5-year survival rate for all pancreatic cancers is 9%, but for stage 4 pancreatic cancer, the 5-year survival rate is 3%. Yikes.
Still, Trebek's firm and hopeful message is encouraging. Health.com says that treatments and survival times have improved in the last few years. With every resource available to him, perhaps he'll beat the odds after all.
If memory serves me well from my time on the show in the 1990s, each season's last taping usually happens in April, with those shows airing through June. Then Jeopardy! goes on hiatus until August, when it begins taping for the new season that starts airing in September. So it doesn't seem like a long shot that Alex could finish out this year in any case, assuming that means about eight more weeks of taping. Then there'll be roughly 14 weeks for Jeopardy! and Alex to figure out what happens next.
Alex wasn't kidding about his contract: last October he re-upped for another three years, taking him officially through the 2021-2022 season, in the year he'll turn 82.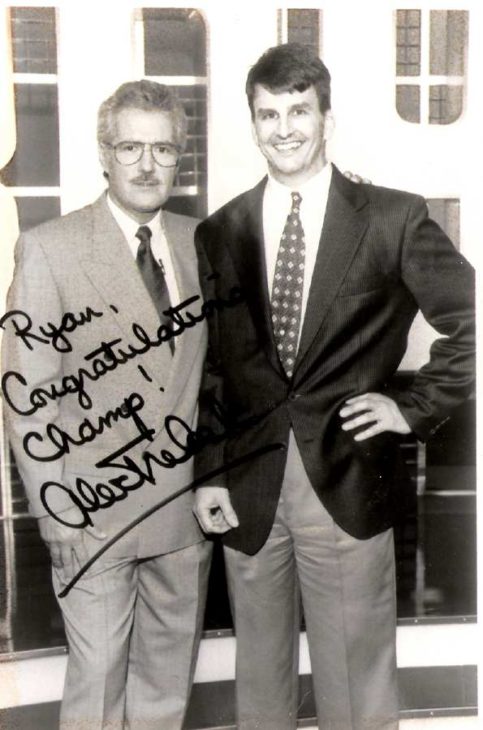 It goes without saying that I wish Alex well. Being on Jeopardy! in 1994, and winning the Tournament of Champions in 1995, changed my life. It gave me the nest egg I'd never had, which was huge. But it also changed how I saw myself: as a winner, a closer, a clutch performer, things I'd never really thought about myself before. If somebody had told me a few years earlier that I would be on the show and win the Tournament of Champions, I would have regarded that statement as roughly equivalent to "You will be the first man to walk on Mars." But it happened just the same.
One of the truths of Jeopardy! is that while people are always delighted to hear that I was on the show, no one ever really cares much about how I did. Their first question is always the same: "What's Alex Trebek really like?"  Here's hoping he finishes out that contract.