Happy 100th birthday to Jackie Robinson, one of the true American heroes of the 20th century.
Jackie Robinson broke the color barrier in baseball, a racist barrier so strange and terrible that it seems absurd to type the words now. Imagine baseball without Jackie Robinson, without Willie Mays and The Catch, Hank Aaron and his hammer, Roberto Clemente, Ken Griffey, Jr., Mariano Rivera… what a thought.
But Jackie Robinson was more than a baseball hero. Exhibit A: here's the great George Vecsey, retired columnist for The New York Times, back for one day to go back, back, back for a memory:
[I] interviewed him once on the phone, around 1966, when I was doing a story on the absence of black coaches and managers in baseball.

When I called for the prearranged interview, he turned the theme around, asking how many black journalists were in the sports department where I worked. Umm, none, I said, thereby touching off a monologue on lack of opportunity everywhere. That's what I'm talking about, he said. I consider the lecture a highlight of my career.

Decades later, I told his widow, Rachel Robinson, about our testy interview.

"That sounds like Jack," she said, with her Mona Lisa smile.
Heh. Don't miss Vecsey's terrific column.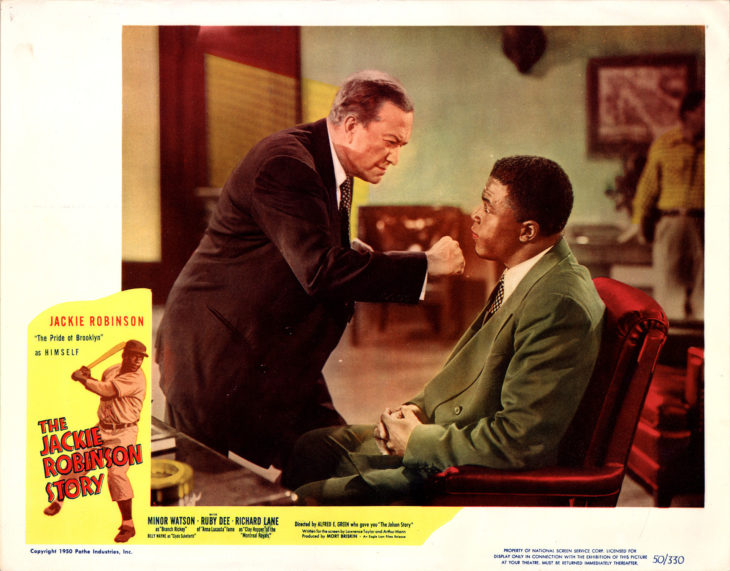 Did you know that Jackie Robinson actually played himself in a feature film, The Jackie Robinson Story? It came out in 1950, three years after he made it to the major leagues at age 28. (Ruby Dee played his wife!) Robinson's story was so amazing that even in 1950 they made a movie about him, starring him.
He wasn't a god, of course. He was a man. But what a man. We were lucky to have him.
See our full Jackie Robinson biography »