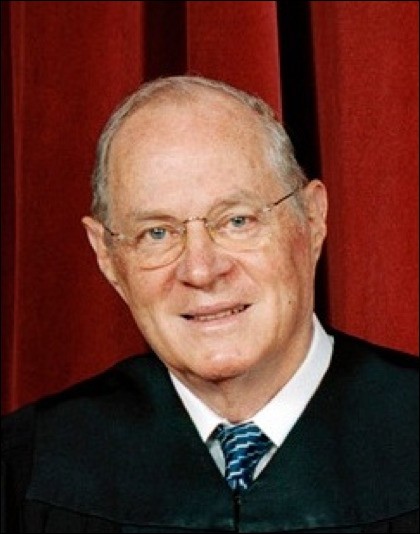 Facts about Anthony
Kennedy
Anthony M. Kennedy
is 86 years old
Best known as:
U.S. Supreme Court justice, 1998-2018
---
Anthony M. Kennedy Biography
Anthony Kennedy joined the Supreme Court of the United States in 1988 after being appointed by President Ronald Reagan. He announced his retirement 30 years later, in 2018.
A native Californian, Anthony McCleod Kennedy grew up working in oil fields and tagging along with his dad, a Sacramento attorney and lobbyist. A graduate of Stanford University (1958) and Harvard Law School (1961), he served in the National Guard and began his career in a San Francisco law firm. He took over his father's practice in 1963 and worked as an attorney and law professor at McGeorge Law School. He was named to the federal bench in 1975 by President Gerald Ford (at the suggestion of then-governor Ronald Reagan).
While at the U.S. Court of Appeals for the 9th Circuit, Kennedy earned a reputation as a fair jurist and a loyal conservative Republican. He was not Reagan's first choice to fill the vacancy on the Supreme Court left by Lewis Powell; Kennedy was picked after Robert Bork could not get confirmed and after Douglas Ginsburg withdrew. Since joining the high court he has frequently cast the deciding vote, sometimes voting with liberals but most often siding with conservatives.
He announced his retirement from the court on June 27, 2018. President Donald Trump nominated one of Kennedy's former law clerks, judge Brett Kavanaugh, to replace him.
Extra credit
Anthony Kennedy was 38 when he became a federal judge… Anthony Kennedy's seat will be the second filled by Donald Trump. The first was Neil Gorsuch, who joined the court in 2017 after the U.S. Senate, led by majority leader Mitch McConnell, refused to give a hearing for nearly a year to President Barack Obama's choice of Merrick Garland.
---
Related Biographies
Something in Common with Anthony M. Kennedy
4 Good Links
2018 report from The Washington Post

Career background from the OYEZ project

Bio and news archive from the New York Times

Profile and interview from the Academy of Achievement
Share this: