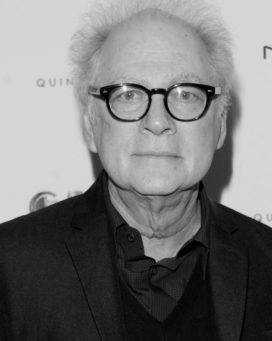 Facts about Barry
Levinson
Barry Levinson
is 80 years old
Best known as:
The director of Diner and Rain Man
---
---
Barry Levinson Biography
Barry Levinson is a successful writer-director-producer whose credits include the TV series Homicide: Life on the Street (1993) and the box office hits Rain Man (1988, with Tom Cruise and Dustin Hoffman) and Wag the Dog (1997, with Hoffman and Robert DeNiro).
Originally a stand-up comedian, Levinson got a career boost as a writer for Carol Burnett's hit TV show in the early 1970s.
Levinson went on to become a screenwriter in the late '70s, notably for comedian Mel Brooks on the films Silent Movie (1976), High Anxiety (1977) and History of the World, Part I (1981); he also earned an Oscar nomination for his screenplay for …And Justice For All (1979, starring Al Pacino).
His debut as a director, the 1982 film Diner (1982), propelled him into the big-time, as well as identifying him with his hometown of Baltimore, a locale also featured prominently in his films Tin Men (1988) and Avalon (1991).
Levinson's other film credits include The Natural (1985, starring Robert Redford); Good Morning, Vietnam (1987, starring Robin Williams); Bugsy (1991, starring Warren Beatty); Bandits (2001, with Bruce Willis and Billy Bob Thornton); Envy (2004, with Ben Stiller and Jack Black); Man of the Year (2006); and What Just Happened? (2008, with DeNiro, Willis and Catherine Keener).
Since 2010 Levinson has been more involved with television productions, including the series Borgias (2011-14), Killing Fields (2016-17) and Dopesick (2021).
Extra credit
2004's Uniform, a short film available on the Web starring Jerry Seinfeld and Superman, was directed by Levinson… Levinson has been nominated for an Oscar five times, twice for directing and three times for writing; he won the Best Director Oscar for Rain Man.
---
Related Biographies
Something in Common with Barry Levinson
4 Good Links
Official site, with good career background and the latest news

Includes brief descriptions of several of his films

Informative 2000 interview that includes some audio clips

His career profile from his hometown newspaper
Share this: