Comedy legend Carl Reiner has died at age 98. For once, the term "legend of comedy" clearly applies: Nine-time Emmy Award winner, recipient of the Mark Twain Prize for American Comedy, director of Oh God! and The Jerk, and creator of The Dick Van Dyke Show, one of the great sitcoms of the 1960s.
Carl Reiner's death on Monday night was due to natural causes, according to his family. It must have been sudden, because he was still tweeting on Monday afternoon:
Did you ever hear the British icon Noel Coward exhort a parent of a marginally talented child, "Please, Mrs. Worthington, don't put your daughter on the stage?" No??? Well, I did!

— carl reiner (@carlreiner) June 29, 2020
If you had Noël Coward as the very last topic that Carl Reiner would tweet about, you win the prize.
Two years ago I was lucky enough to interview Mr. Reiner for The Ultimate Droodles Compendium, a book about humorist Roger Price that I was writing for Tallfellow Press  publisher Claudia Sloan. Reiner had been one of three regular panelists on the Droodles TV game show on NBC in 1954.  On the first episode, Roger Price introduced Reiner as "the man you saw standing slightly left of Sid Caesar for five years, the eminently wealthy Mr. Carl Reiner" — a reference to Reiner's long run as second banana on the comedy-variety series Your Show of Shows.
On Droodles, Reiner and the other panelists would try to guess the captions of funny drawings created by Price or sent in by the studio audience. How did Reiner land the job? "It brings back wonderful memories," he told me. "Everybody knew about Droodles. I was a friend of Leonard Stern and he told me about this guy he was working with and it was a totally original idea. Books of Droodles were just… everybody looked forward to them!"
Claudia and I had hoped to get some stories from Reiner about how and where the show was shot, but he was frank about having zero recall of specifics:
You know, I have no memory of [shooting the show]. I have no memory of a lot of things at 96 and four months. You forget things that don't really matter. You remember the birth of your children; you remember your friends; and the shows you've done are sort of floating up there. They're floating. I would never thought of it unless somebody came to me and said, "Roger Price and Droodles." I'd say, "Oh yeah, yeah, yeah."
Fair enough! On the other hand, he was effusive about Droodles. By happy chance, or because he was enough of an old pro to know we needed a good quote, he gave us a terrific line:
Roger came up with something that nobody ever dreamed of before. He could take just two triangles and turn it into a ship arriving too late to save a drowning witch. I think that was the very first Droodle I saw, and I said, now that is how to make somebody laugh — at two little pieces of a drawing. It's brilliant!
When Carl Reiner says your comedy is brilliant, you're on your way. Naturally we featured the quote prominently in the book and in promotional materials, with "It's brilliant!" in big letters on the back cover.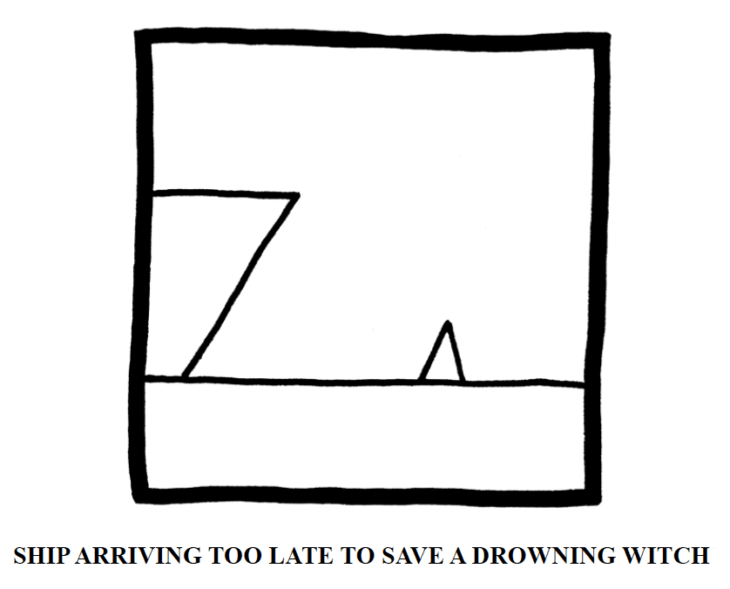 The Leonard Stern mentioned by Reiner was Roger Price's friend and writing partner: together they created the still-popular word game Mad Libs, and also co-wrote the book What Not to Name the Baby. In the course of researching the Droodles book, I found the photo at the top of this post: Reiner sharing a laugh with Doris Day and James Garner on the set of The Thrill of It All, the 1963 film written by Reiner.
Our interview lasted only 10 fast minutes. Even at "96 and four months," he was still a busy man, with two assistants we had worked through to set up the call. He wrapped things up briskly: "Listen, I've got to go now because believe it or not I'm working on a new book. People are looking at me saying, 'When are you going to go back to work?'"
Perhaps that last book is still forthcoming, but his career isn't one that really needs a capper. What a body of work. Happy travels, Mr. Reiner, wherever you may be.
See our full biography of Carl Reiner »