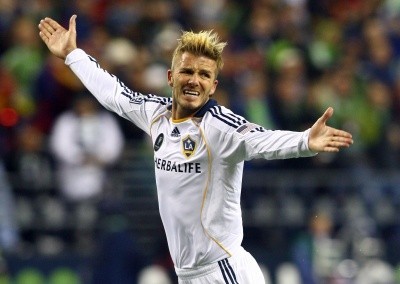 David Beckham and the LA Galaxy have won the MLS Cup — the Super Bowl of American soccer. A Beckham header started the play that ended with the winning goal by Landon Donovan.
But don't expect encomiums from the British press. The Daily Telegraph snickers its way through a report, chortling especially when Beckham, Donovan and Robbie Keane are described as "some of soccer's biggest names." Not much love there:
"ESPN too, were unable to resist the fairytale saccharine sweet story that seems to unfold around Beckham wherever he decides to flash his winning smile. The US has fallen in love with the boy from East London just as they have done from Manchester to Manilla."
The Guardian's football blog couldn't resist calling Beckham "Goldenballs" again and again — the nickname given to Becks by his wife Victoria a few years back. One reader there compared the MLS Cup to a cheese-rolling contest in Gloucester:
Which, granted, looks fantastically entertaining.
The Daily Mail got more into the spirit of things:
"Hollywood loves a happy ending. In true movie style, David Beckham signed off his five-year American adventure with a trophy as LA Galaxy lifted the MLS Cup on Sunday night."
The Independent takes the most traditional British approach to American soccer: ignoring it. The paper gives the MLS Cup the briefest possible nod with a wire service report.
See our full David Beckham biography »