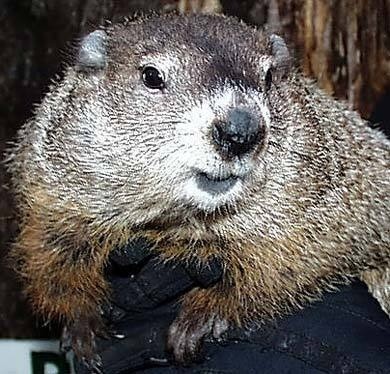 Everyone talks about the weather, but nobody does anything about it.
Except for prosecutor Mike Gmoser of Butler County, Ohio! He has just indicted Punxsutawney Phil for the crime of "misrepresentation of spring." Phil, you may recall, predicted "an early spring for you and me" back on February 2nd.
Getting straight to the point, Gmoser recommends the death penalty for Phil — a sure sign that March snowstorms are really getting to Ohioans.
Phil's friends say they'll fight extradition:
Bill Deeley, president of the Punxsutawney club that organizes Groundhog Day, said Phil has a lawyer and would fight any extradition attempt by Ohio authorities.

…"Right next to where Phil stays is the police station," he said. "They've been notified and they said they will keep watching their monitors."
Punxsutawney knows enough to protect its cash cow, even if he's done wrong. It's not exactly like the U.S. Army
protecting
Nazi rocketeer
Wernher von Braun
after the war, but the principle is the same. Rocket science and weather predictions are what-can-you-do-for-me-tomorrow businesses.