On this heels of the much-discussed Obama clay pigeon photo comes this classic of presidential sporting life: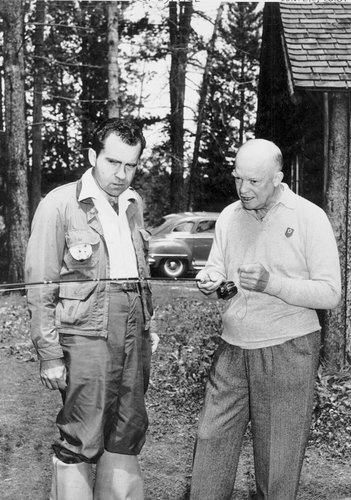 Dwight D. Eisenhower Presidential Library via NY Times
Yes, it's presidential nominee Dwight D. Eisenhower (right) showing a fly-fishing rod to running mate Richard M. Nixon in 1952 on a fishing trip in Colorado.
Nixon couldn't look more out of place, could he? No matter: Ike won the election that fall, maybe because Adlai Stevenson looked even less like a vigorous sportsman than Nixon.
The photo is from this review of Ike and Dick, a new history by Jeffrey Frank. It sounds terrific.
The 1999 book Fishing With the Presidents describes the moment:
The famous Eisenhower grin, however, was conspicuously absent as Ike tried to teach Nixon the rudiments of fly-fishing while the press looked on. "It was a disaster," Nixon candidly recalled. "After hooking a limb the first three times, I caught his shirt on my fourth try. The lessons ended abruptly. I could see that he was disappointed because he loved fishing and could not understand why others did not like it as well as he did."
The moment was caught on newsreel cameras, too.
Ike and Dick, by Jeffrey Frank »