We've posted a new biography of Eli Manning, quarterback for the New York Giants. Manning and the Giants go up against Tom Brady and the New England Patriots in Super Bowl XLVI today.
The last time the two teams met in a Super Bowl, in 2008, the Giants won and Eli Manning was named the game's Most Valuable Player.
[Super Bowl update: Giants won again, 21-17, and Manning was again the MVP.]
Herewith, some of our favorite Eli Manning photos: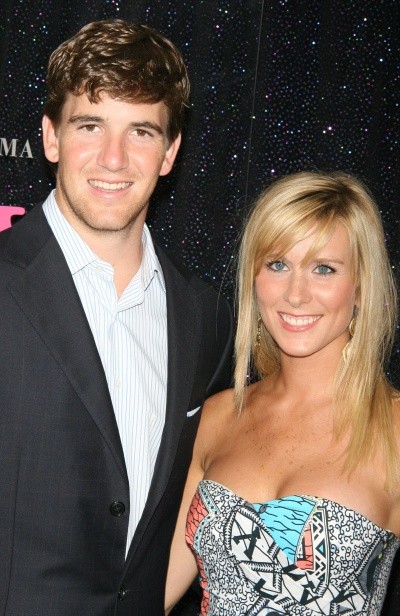 Eli Manning and his wife, the former Abby McGrew. They met when both were students at the University of Mississippi ("Ole Miss"), and they married in 2008. Their first child, Ava, was born last year.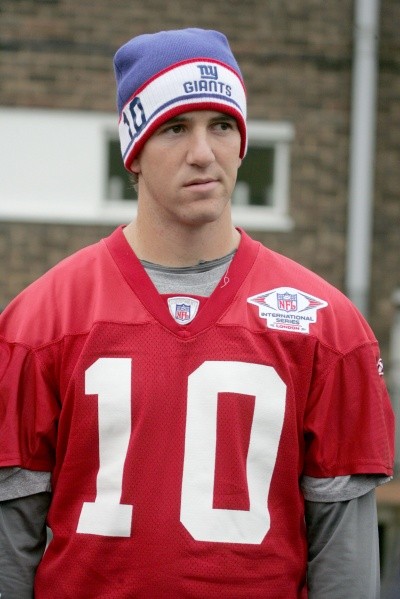 Eli Manning in October 2007, while practicing for an NFL game held that year at Wembley Stadeium in London. The Giants won the NFL championship that season, and Eli Manning was named MVP of Super Bowl XLII.
Eli Manning comes from a family of football superstars. His father, Archie Manning, played quarterback in the NFL from 1971-84, spending most of that time with the hard-luck New Orleans Saints. Eli's older brother, Peyton Manning, quarterbacked the Indianapolis Colts to a Super Bowl win in 2007 — and Peyton was named MVP that year, just one year before Eli.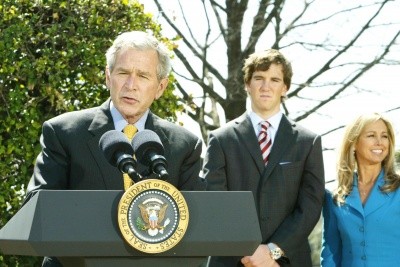 Eli Manning listens while President George W. Bush speaks at the White House in 2008. Bush named Manning to the President's Council on Physical Fitness that year. Workout guru Denise Austin is next to Manning.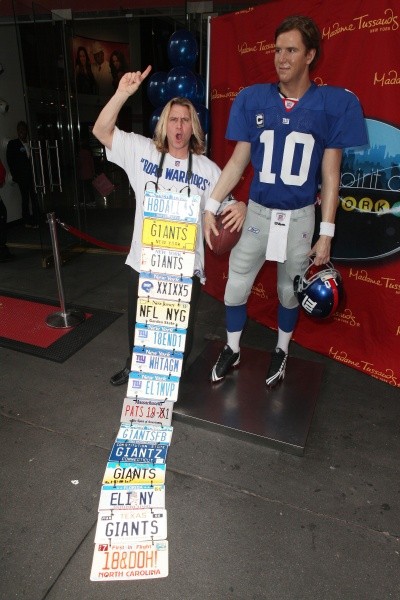 The curious world of stardom: New York Giants fan Joe Ruback, also known as "License Plate Guy," stands net to a wax statue of Eli Manning at Madame Tussaud's in New York City in January, 2012. Eli played in his second Super Bowl the next month.
Of course, no Eli Manning biography is complete without the video of his most famous play, his game-saving escape and throw to David Tyree in the fourth quarter of the 2008 Super Bowl. Amazing play.
See more photos of Eli Manning »