Queen Elizabeth II was in Kenya when she found out her father King George VI had died. That was 60 years ago, and 2012 brings her Diamond Jubilee.
Elizabeth Alexandra Mary, princess and presumptive heir to the throne, was already married to Lt. Philip Mountbatten at the time. She was not quite 26 years old when she ascended to the throne, upon her father's death. She already had two toddlers.
One of the world's longest reigning heads of state, Queen Elizabeth II has sent 45,000 Christmas cards over the years, and provided 90,000 Christmas puddings to the staff of Buckingham Palace. She's gone through more than a dozen prime ministers, six Archbishops of Canterbury and six popes. She's been to 116 countries and sat for 129 portraits.
Queen Elizabeth has had more than 30 corgis over the years, and eleven "dorgis." A dorgi is a breed she created by mixing a dachsund with a corgi.
She is the fortieth monarch since William the Conqueror grabbed the throne of England. The only other English monarch to celebrate a Diamond Jubliee is Queen Victoria, and that was way back in 1897, when those girls at Downton Abbey were still running around in nappies.
Here's the 2012 official portrait of Queen Elizabeth II, with the Queen Victoria Memorial conspicuously in the background: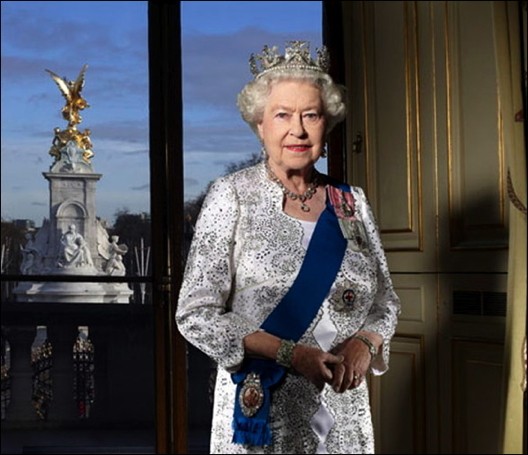 There have been only three other heads of state to celebrate such a long reign: The Sultan of Johor (part of Malaysia) in 1955, Emperor Hirohito of Japan in 1986 and King Bhumibol Adulyadej of Thailand in 2006.
The official site for her Diamond Jubliee includes a list of facts, downloadable portraits and emblems and an easy way to send the Queen an electronic message.
Don't forget to read the Who2 biography of Queen Elizabeth II.