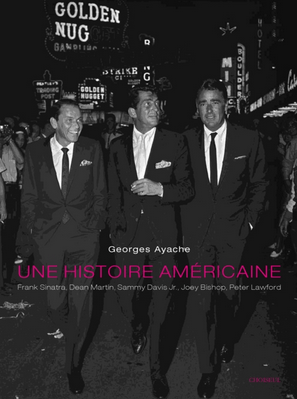 Book review: Une Histoire Américaine
By Georges Ayache
256 pages
We are holding in our hands Une Histoire Américaine, the handsome new book from French historian Georges Ayache. The title translates as An American Story and it's the tale of our very own Rat Pack, a nickname which is rendered charmingly here as la bande de rats.
Une Histoire Américaine arrives through the kindness of the Paris publishing house Editions Choiseul, which didn't seem to mind that our French is limited to words like baguette and Brigitte Bardot. No matter! If they're game, so are we.
Mr. Ayache starts things off with a bang on the very first page:
"Dépêche-toi, Phil. Notre gosier va se dessécher avant même que tu n'aies appuyé sur ton satané déclencheur!"
Which Google translates as:
"Hurry, Phil. Our throat is dry before you have pressed your damn trigger!"
That's Frank Sinatra talking, of course. The boys are posing for Esquire magazine and cracking wise while ignoring the photographer's pleas ("indifférents aux gesticulations du photographe").
And why exactly are they indifférents?  Because they are "Frank Sinatra, Dean Martin, Sammy Davis Jr., Peter Lawford, Joey Bishop. Des monuments du show business!"
Des monuments, indeed.  Also, degenerates!  The book calls them "un groupe de bringueurs, de dragueurs invétérés."  Bringue is a slang term for a drinking party or rave-up, while dragueur means "minesweeper" (fantastic!) but can also be translated as "dredger" or "flirt."
Which gives us "a group of drinking party boys and incorrigible flirts" known as the Band of Rats. Who wouldn't recognize that description? (And let us please change Sinatra's nickname from "Ol' Blue Eyes" to "the Ol' Minesweeper.")
But it's not just about Sinatra and company. Other celebrities pop up in later pages, including Humphrey Bogart, whose wife Lauren Bacall is said to have coined the name 'Rat Pack' in the first place.  Bogart is a world class bringueur himself, as Ayache notes when the actor is dragged before a judge for an incident involving drinking, a dame, $25,000, and the El Morocco nightclub:
Le juge, qui n'etait pas exactement un gai luron, entreprit de le questionner. Il ne devait pas être déçu: "Étiez-vous ivre au moment des faits qui vous sont reprochés?"

"N'est-ce pas le cas de tout le monde à trois heures du matin?" répondit Bogey.
Or in auto-translation:
The judge, who was not exactly a jolly fellow, began to question him. He should not be disappointed: "Were you drunk at the time of the facts with which you are charged?"

"Is this not true of everyone at three o'clock in the morning?" replied Bogey.
That Bogey!
It may be true of everyone at three o'clock in the morning, but it was true of le bande de rats at practically all times. A glance through the book reveals parties and drinking sessions with a cornucopia of Hollywood names: Judy Garland, Ronald Reagan, Rita Hayworth ("tout juste de se séparer d'Orson Welles"), phony Russian prince Mike Romanoff, Marilyn Monroe and (of course) JFK.
The president is anointed an honorary dragueur by Sammy: "Tout le monde a Vegas savait que Jack voulait des filles." ("Everyone in Vegas knew Jack wanted girls.") Unlike some authors we could name, Mr. Ayache knows how to get down to brass tacks.
And how does it all end?  Poignantly.
Enfin fidèles à euxmêmes, à jamais. Avec en musique de fond, Sinatra fredonnant à sa façon inimitable "The Best Is Yet To Come." Oui, malgré tout, le meilleur est encore à venir.
"Finally true to themselves, forever. With background music, humming in Sinatra's inimitable way with 'The Best Is Yet To Come.' Yes, despite everything, the best is yet to come."
Until now, a truly great book on the Rat Pack has never been written in French. Une Histoire Américaine looks like that book.