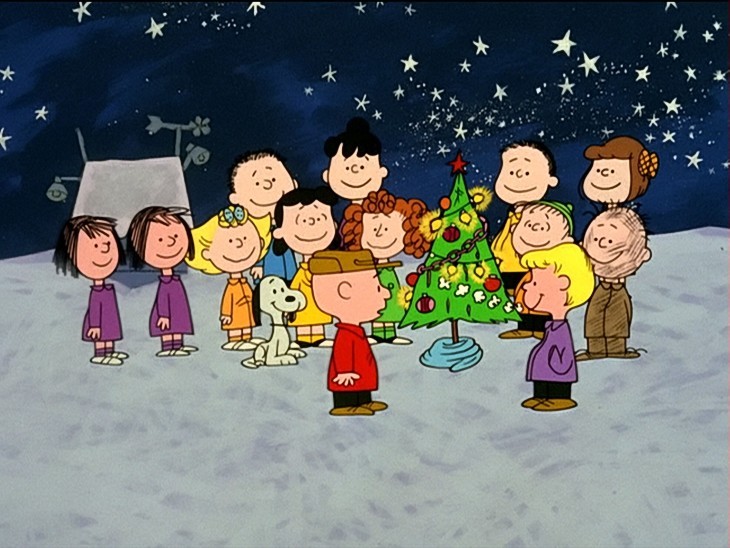 Which are you feeling more nostalgic about: Frank Sinatra's 100th birthday or the 50th anniversary of A Charlie Brown Christmas?
Both moments happen this week, a few days apart: Frank Sinatra was born on December 12, 1915. A Charlie Brown Christmas first aired on December 9, 1965.
At first glance, Charlie Brown and Frank Sinatra couldn't be much different: the hapless comic-strip loser and the swingin' Chairman of the Board, the 20th century's most famous singer. But their paths crossed for a few days in 1965. And that's just where the relationship starts.
Sinatra struck first with his 50th-birthday TV special, A Man And His Music, which aired on November 24, 1965.  The show's format was radical for its time: no special guests, no Rat Pack, and no frills. Just Frank Sinatra on a mostly bare stage in a TV studio with the Nelson Riddle orchestra, singing his hits for a live audience. (The recording of the show was captured in Gay Talese's famous Esquire story, "Frank Sinatra Has a Cold.") The show was a big hit: it won both an Emmy Award and a Peabody Award for excellence in broadcasting.
15 days later, A Charlie Brown Christmas landed. The show was capped by its own minimalist moment: 60 seconds of Linus, on a bare stage, reciting from the Bible. 15 million homes tuned in, and this first Charlie Brown special also won Emmy and Peabody awards. A Charlie Brown Christmas was sponsored by Coca-Cola; Sinatra was sponsored by Budweiser.
There are other ties between Frank Sinatra and Charlie Brown.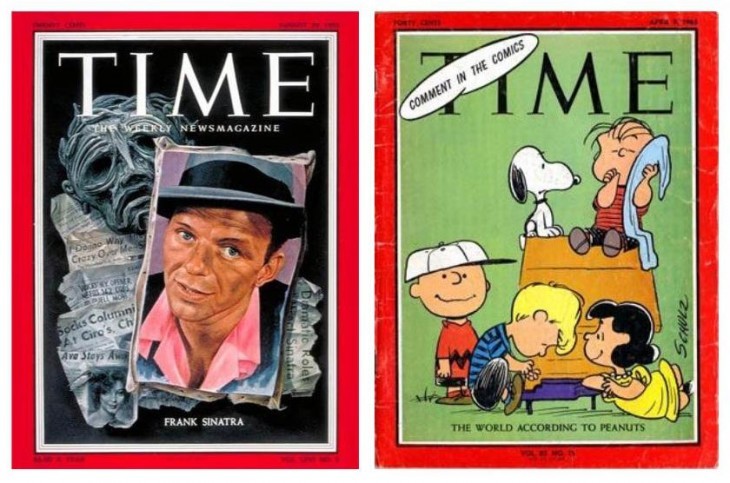 Both appeared on the cover of Time magazine, 10 years apart. Sinatra's 1955 cover references his controversies: slugging a gossip colunnist at Ciro's restaurant, and his volatile love affair with Ava Gardner. The Peanuts gang got cheerier treatment in 1965, a few months before the Christmas special dropped.
Another odd link between crooner and cartoon: Sinatra's third wife, actress Mia Farrow, liked to call him "Charlie Brown." Years after their divorce he was still using the pet name with her:
"A kiss on the nose" — a cute line taken straight from Peanuts.  (Sinatra seemed to have a knack for staying friendly with his ex-wives: his first wife, Nancy Sinatra Sr. — the one he abandoned for Ava Gardner — threw him a huge 50th birthday bash at the Beverly Wilshire hotel two weeks after A Man And His Music aired.)
Perhaps the place where Frank Sinatra and Charlie Brown stand closest, though, is in the lyrics of Sinatra's songs. Charlie Brown is the one always described as a "lovable loser" and "meek depressive." But did you ever listen to Sinatra's lyrics? Like "Only the Lonely?"
Each place I go only the lonely go
Some little small cafe
The songs I know only the lonely know
Each melody recalls a love that used to be.
Or "No One Cares":
When no one cares and the phone never rings
The nights are endless things
You're like a child that cries
And no one heeds the crying
You're like a falling star that dies
And seems to go on dying.
 Yow! Who's the depressive now, Charlie Brown?  As Tony Parsons wrote in GQ this summer:
"Sinatra's losses are the subtext to every song he ever sang …There is a glorious swagger to Sinatra, but there is also vulnerability and real, raw emotions behind that smooth, intimate voice. Sinatra [carried] the knowledge that, in the end, it all slips away. Your health, your career, your money, your family… and your love."
So maybe they aren't so different after all, the Chairman and the kid who never got to kick the football.
But let's not end this meditation on a melancholy note, because Sinatra and Charlie Brown share one more thing:
And…
Both did a pretty nice version of "Hark the Herald Angels Sing."  Happy anniversary to Frank and Chuck.
(See our full biographies of Charlie Brown and Frank Sinatra.)