Happy Holidays With Bing and Frank
, the special was called, and it aired on December 20, 1957.  The conceit is that
Bing Crosby
drops in on
Frank Sinatra
on Christmas Eve, and the two loners swap gifts, trade a few barbs, and then settle in to do what they do best: sing.
Both Sinatra and Crosby were riding high in those days: Frank as the comeback kid, and Bing as the legendary figure of radio, movies and TV. (Bing turned 54 that year, but he was still just a year past romancing Grace Kelly, however improbably, in the musical High Society.) This show is really Sinatra's baby: he created and directed it.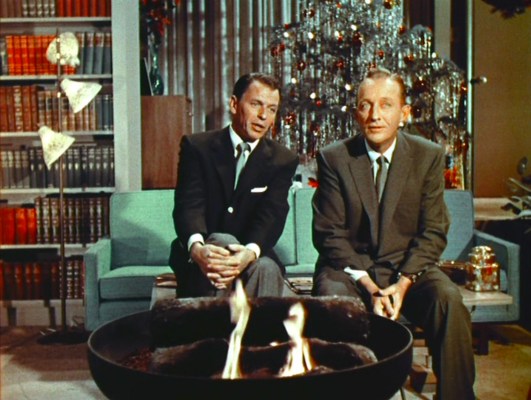 But what was Frank Sinatra wearing, you ask? Glad you asked.
Frank's dark navy wool blazer was almost definitely tailored by Sy Devore of Beverly Hills, the go-to tailor for the Rat Pack as well as gents in their orbit including Bing, Nat King Cole, Bob Hope, Jerry Lewis, Elvis Presley, and John Wayne. It's a darker shade of blue than the blazer he wore earlier that year in Pal Joey, and this particular jacket has silver crested shank buttons rather than the gold buttons on the Pal Joey blazer. Frank fastidiously wears the blazer with the top two buttons fastened, leaving the third correctly undone. There are also three smaller matching buttons on each cuff.

The ventless blazer has notch lapels, straight flapped hip pockets, and a welted breast pocket for his neatly folded white linen pocket square.
That analysis is by BAMF Style, the wonderful website that specializes in cheerfully obsessive analysis of men's clothing in movies and TV. Their entry on this special, Frank Sinatra's Navy Blazer for the Holidays, has everything you might want to know about Sinatra's clothes, his holiday style, and even his cigarettes. (Chesterfields sponsored the show — "my cigarette," Frank calls them — but he later "switched to Camels for his Reprise years and beyond.")
BAMF Style is a terrific site if you have any interest at all in movies or men's fashion. (The name comes from Samuel L. Jackson's wallet in Pulp Fiction, although they're trying to retcon that now.) The variety is part of the thrill: We can't get excited about Roger Moore's sheepskin jacket in For Your Eyes Only, but we are very much into Cary Grant's casual Riviera style in To Catch a Thief. (BAMF loves Grant, with 10 entries on his clothes alone.)
The details go beyond fashion, too. We'd spent a large part of the Sinatra/Crosby show trying to figure out if the boys were singing live or lip-synching. BAMF tells us it was both:
Both stars were big enough to work their own preferred way, so the musical "duets" were recorded ten hours apart to accommodate Bing's preference for pre-recording in the morning and Frank's preference for live recording in the evening.
BAMF also suggests that Sinatra may have looked askance at Bing wearing a brown suit after dark, but was (maybe?) too polite a host to say so.
We saw Happy Holidays With Bing and Frank for free on the Roku channel TV Time, but you can also rent it on Amazon.com. Or you can always join PBS and watch it there.) Plus we recommend BAMF Style any time of year.
(And if you like holiday shows, have you tried Christmas in Connecticut?)