Who2 Studios brings to you a special moment in history. The year is 1888, and incumbent Democrat Grover Cleveland has just been defeated by upstart Republican Benjamin Harrison.
It's no surprise that Grover Cleveland is so bitter: he actually just won the popular vote by about 100,000 votes, 5.54 million to 5.44 million. That doesn't really justify his cruel wisecrack about Harrison's grandfather, William Henry Harrison, who died 31 days after taking office in 1840… but then, politics is a rough game. Benjamin Harrison was the clear winner in the electoral vote, so as he so eloquently says, "too bad."
How angry is Cleveland? He actually gets the facts of his marriage wrong in the heat of this argument. He was already married to Frances Folsom at this point (they wed in 1886) and she was 21, not 22.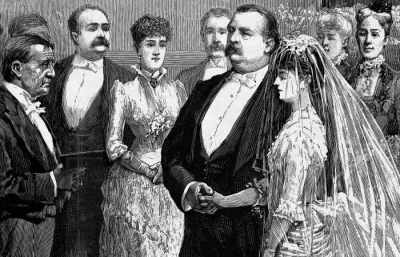 She was a hottie, however, as Cleveland insists. He was a passionate guy.
Cleveland got the last laugh, in any case: He won the rematch in 1892 (with a nearly identical vote count, 5.56 million), making him our only president to serve two non-consecutive terms.
See our full biographies of Grover Cleveland and Benjamin Harrison.