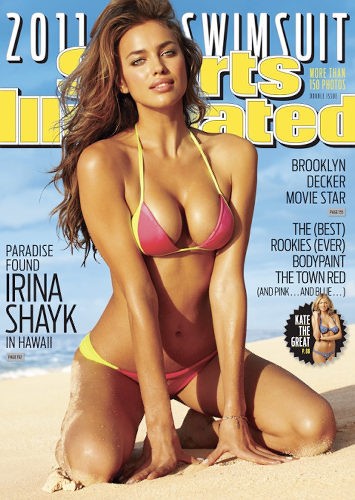 Irina Shayk was everywhere this week after making the cover of the 2011 Sports Illustrated swimsuit issue. We've posted a new biography of Irina Shayk, and here's what we know so far:
Her real name is Irina Shaykhlislamova.
Her hometown is spelled about a dozen ways, including Emangelynsk, Yemanzhelinsk, and Emanzhelisk. We use the latter because it's how she spells it herself on her official site.
Emanzhelisk is wayyy out there, 1000 miles from Moscow and not far from Kazakhstan.
Irina Shayk has green eyes and is 5'10" tall.
Irina Shayk was Miss Chelyabinsk of 2004, and Sports Illustrated says she was discovered by model scouts "while on a three-day train ride from Chelyabinsk to Moscow." (The trains are still a little slow over there.)
Her official website biography is surprisingly detailed and states her date of birth plainly, for which we salute her.
Here's a nutty promotional video in which Sports Illustrated suggests that Irina Shayk turned to modeling only after failing as a comic ventriloquist:
"We are doubting this very much," as the Russians say.
Still, we hereby grant her Seems To Be A Good Egg status, because of the Woody Allen comment and because of "I am so sad ventriloquism is not respected" and because she gives her birthdate on her website. And because she came from outta nowhere.
Now see still more photos of Irina Shayk »

(Photos: Sports Illustrated; July Eddy/WENN; HRC/Wenn)