Jenn Sterger is the woman tangled up in the Brett Favre brouhaha. (Favre allegedly sent her naughty photos when both worked for the New York Jets, though Sterger herself isn't the one making the allegations.)
Let's set the wayback machine for 2005 and see the five seconds of TV time that Sterger flipped into sudden Internet fame, a column for Sports Illustrated on Campus, an appearance in Playboy, an on-camera job with the New York Jets — and that has ended up with her tied to an NFL quarterback in a classically weird modern-day media ruckus.
The date was September 5th, the game was Florida State-Miami, and the call is by the ageless Brent Musburger.  The guy saying "take a breather" after the cut is ABC analyst (and former NFL quarterback) Gary Danielson.
That's Jenn Sterger in the middle with the cowboy hat — one reason why
online fans called her "The FSU Cowgirl" before they figured out her
name. She took it from there.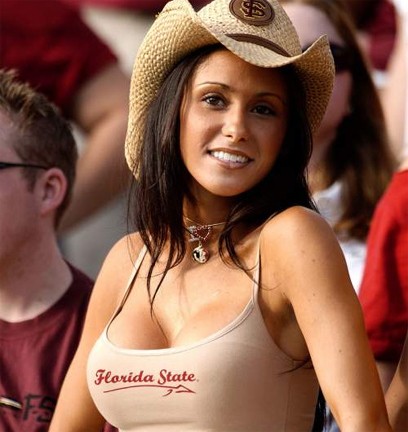 Give Sterger points for All-American initiative, if nothing else.