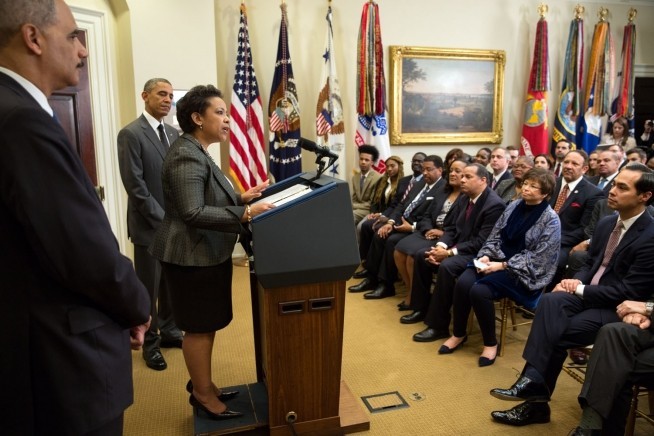 "The Department of Justice is the only Cabinet Department named for an ideal. And this is actually appropriate, because our work is both aspirational, and grounded in gritty reality."
So said Loretta Lynch as she accepted President Barack Obama's nomination to become the next U.S. Attorney General.
If confirmed by the Senate, Loretta Lynch would replace Eric Holder, who is stepping down after six years as Attorney General under Obama. That's her at the podium above in the Roosevelt Room of the White House, flanked by Obama and Holder.
[Update: Loretta Lynch was finally confirmed by the U.S. Senate on 23 April 2015.]
Lynch would be the first black woman to be Attorney General, and only the second woman to hold the post; Janet Reno served as AG from 1993-2001, under both terms of President Bill Clinton.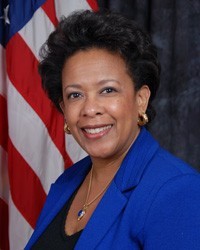 Loretta Lynch has had an interesting back-and-forth career. She graduated from Harvard Law School in 1984 (seven years before Obama) and spent six years as a litigation lawyer in private practice before becoming an Assistant U.S. Attorney in 1990. She was with the Justice Department for 11 years, then went back to private practice for 9 years, then back to the Justice Department in 2010. She is currently the the U.S. Attorney for Eastern New York.
Her father was a Baptist minister and her mother was a school librarian. She told a remarkable story about her ancestors in a 2012 speech at the Federal Bar Council Annual Thanksgiving Luncheon:
"My father tells the story of my great great grandfather, the first generation of preachers we can identify in the family, who was a free black man in antebellum North Carolina. While it is unclear how he came to have his freedom, it certainly gave him a life those enslaved did not have.

He would have lived his life as a free man, but he was to meet my great great grandmother, the woman he wanted to marry. And while he was free, she was not, but was still enslaved. Unable to purchase her, in order to marry her he had to stay on and re-enter bondage.

That's a sacrifice. And I will confess I never understood it, until I met my own husband, and realized that when you find the person who truly has your heart, not only are you always home, you are always free.

My great great grandfather sacrificed his freedom for the woman he loved and the family he wanted. If he could do that to have the future of his choice, then nothing I have given up feels like a loss to me."
Pretty powerful stuff.
Her ascencion to Attorney General is not a done deal. The Senate isn't likely to take up her nomination until after the first of the year, when the new Republican majority takes office.
See our full Loretta Lynch biography »