NationalJournal has posted some photos from during the reconstruction of the White House during the Truman years.
Harry Truman took office as president in 1945, just after President Franklin D. Roosevelt died. Vice President Truman and his wife, Bess, had been living in a (rent-controlled) apartment on Connecticut Avenue for $125 a month. First Lady and new widow Eleanor Roosevelt vacated the White House soon after President Roosevelt died, and the Trumans moved in.
The Roosevelts had been living in the White House since 1933. They'd renovated the inside many times, to accommodate the president and his wheelchair. But by 1948, a few years after the Trumans moved in, the White House was in a dreadful state of disrepair.
Harry Truman had added a $10,000 balcony — using maintenance funds so as to avoid getting congressional approval — and Bess Truman had hauled out old furniture from storage, but they didn't make major changes at first. Bess especially was more drawn to a simple and frugal life; she referred to the White House as "the Great White Jail."
It was finally decided to renovate the entire White House, and the Trumans moved into the Blair House just before Thanksgiving in 1948. There was no White House egg roll at Easter for 1949, 1950, 1951 or 1952. Those poor children.
The Trumans moved back into the White House in the spring of 1952. The all-new White House had 132 rooms, with 20 bathrooms and 29 fireplaces. The cost of the renovation was more than $5.7 million. In today's dollars, that would be… oh, forget it. You know that today they'd never okay renovating the White House.
Here's one shot of it, gutted: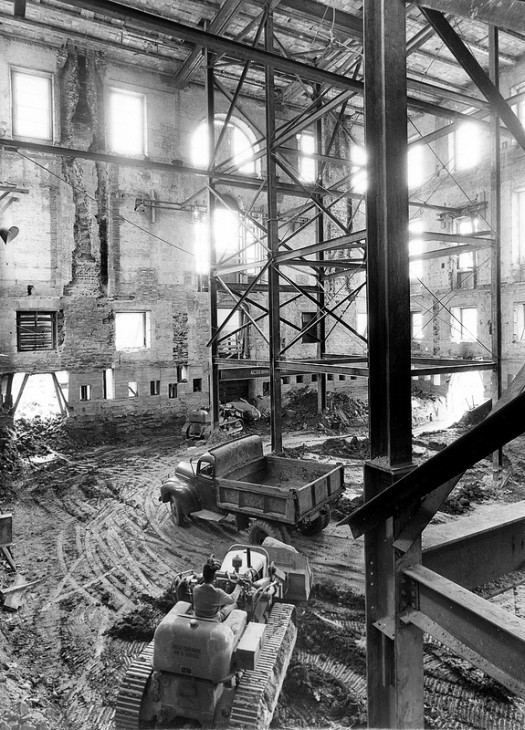 Besides the excellent NationalJournal piece, you can read more about the White House renovation here, at the White House Museum.
And you can read more about Harry S. Truman here, at the Who2 biography.