Nelson Mandela is in the hospital, and South Africa is worried.
Mandela was airlifted from Capetown to Milpark Hospital in Johannesberg on Wednesday and was seen by pulmonologist Michael Plit. The doctor told reporters that Nelson Mandela "has been admitted for investigation."
That's the only thing anyone has told reporters. Mandela's family and other visitors are coming and going at the hospital, but "no comments" abound. "Routine tests" is the official position, but tidbits gleaned from the South African press aren't encouraging:
None of that sounds too hot.
On the plus side, the African National Congress, which often has the inside track on Mandela, claims he "is in no danger and is in good spirits." And the Facebook posting from Zoleka Mandela also said "Spending my next few days with you just so I know that you'll be ok!"
So make of that what you will.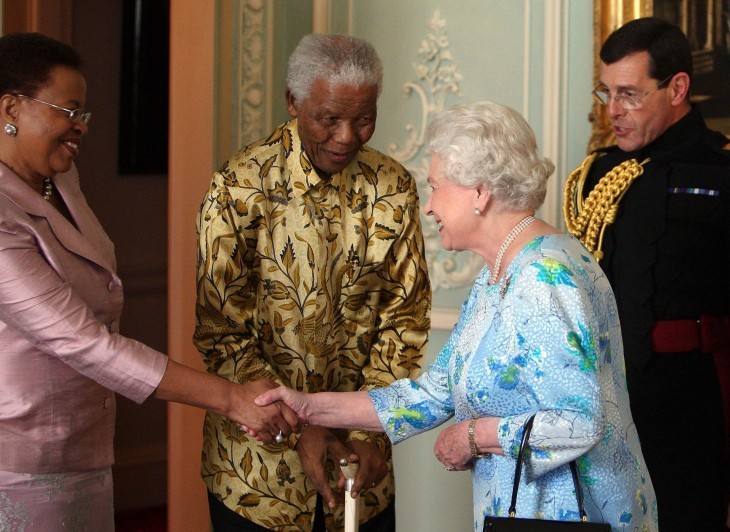 Nelson Mandela hasn't spoken in public since his 90th birthday visit to London in 2008, when he read from notes at an appearance with Queen Elizabeth II. He has been widely reported to be in frail health.
Mandela did appear on a golf cart at the World Cup final last summer, but it's been a long time since anyone quoted him, officially or in a "Madiba told me last week" kind of way.
Mandela's memory may be in bad shape, as Who2 reported late in 2009. A web search shows that we still seem to be alone in speculating on that. Make of that what you will.
If you want to read the tea leaves on the notion that Mandela's mind has failed him, see the full Facebook comments of Zoleka Mandela, as reported by Independent Online:
"I really hate to see you this way. It kills me each time. Know that i'm
here for you as I believe you have always been there for me. You are
never alone in this. We are all with you each and every step of the way.
All you need to do is remember that you us at your back (sic) and
call. I love you. You already know this. Spending my next few days with
you just so I know that you'll be ok! I'm saddened…"
Comments like "It kills me each time" and "You are never alone in this" could certainly be read to suggest a long-term affliction. In fact, I am reading them that way.
But of course, it's only a Facebook post. That's why we're reading the tea leaves.
[ Update, Januarty 28th: Nelson Mandela is back home. Diagnosis: acute respiratory infection. ]
See our biography of Nelson Mandela >>