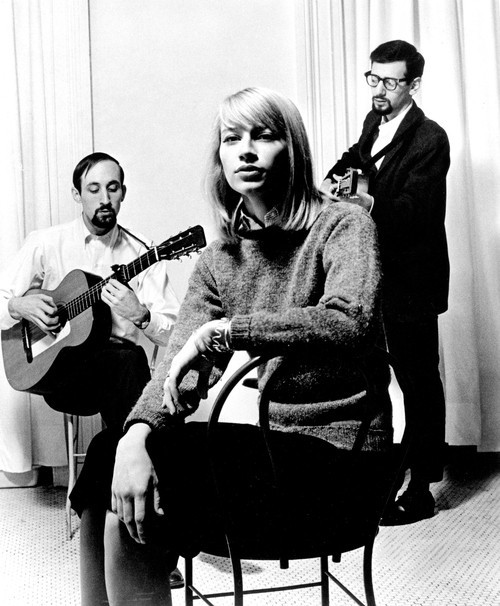 Supplied by WENN
Mary Travers, the warm-voiced and gorgeous singer for the group Peter, Paul and Mary, would have turned 75 today.  She was born in 1936 in Louisville, Kentucky and — alas — died two years ago of leukemia.
The day she died I discovered this YouTube clip of the group singing "Leavin' On a Jet Plane" with John Denver, and kind of fell in love with it. I'll watch it every so often, poor as the video quality is, just to get a buzz of that 1960s Mary Travers good feeling.  It's from a 1969 PBS show called Something To Sing About.
Peter, Paul and Mary were near the height of their fame here — they broke up in 1970, just like The Beatles — and Denver had only just recorded his first solo album that year. But "Jet Plane" was Denver's tune before it was a #1 hit for Peter, Paul and Mary, and it's cool to see them giving a newcomer a boost by bringing him onstage with them.
What I really love about the clip, though, is how incredibly engaged Mary Travers is through the whole thing.  Just look at how she looks into Paul Stookey's eyes while he's singing harmony in the first verse… or the way she tosses her head to look at Denver as he takes over the second verse.  The whole time he's singing she's right there with him, and by the end of the verse she's just beaming.  It's fantastic.
Unlike the Beatles, Peter, Paul and Mary got back together again in 1978 and then kept singing together right through to Mary Travers's death in 2009.  Good for them.  She was terrific.
See more photos of Mary Travers »