Actor Robert Conrad has died of heart failure. He was a fist-fighting TV star in his day, in the 1960s hit The Wild Wild West (which spent decades in reruns) and the 1970s action show Baa Baa Black Sheep (which didn't).
Robert Conrad's obituaries say that he was 84 when he died. Which we count as a personal victory, because 10 years ago we spent a lot of time figuring out when he was born.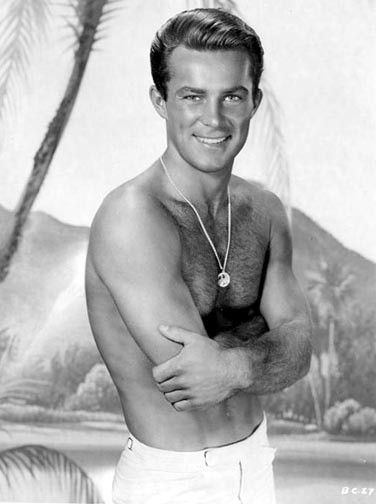 At the time, sources like Wikipedia and the IMDB had his birth year as 1929 or 1930. Our best guess was 1935, based on a trail of interviews, news stories and other evidence over the years.  An Associated Press story about his 2003 arrest for drunk driving got to the heart of the matter:
LaVelda Conrad said her husband is 68, but court records indicate he is 73.
Later editions of the same AP story changed to an even more confusing line: "Police list Conrad's age at 74. Television and film reference guides report the actor is 68." Seven years later, by the time we were looking into it, his family was saying 1935 and the "television and film reference guides" were saying 1929.

But the Associated Press has now come down solidly for 1935. They say:
Family spokesman Jeff Ballard said Conrad died Saturday morning in Malibu from heart failure. A small private service is planned for March 1, which would have been Conrad's 85th birthday.
People.com also has him at age 84, apparently having spoken to Mr. Ballard themselves.
The Associated Press has some interesting additional details on Robert Conrad's birth name. 10 years ago we learned that his mother was said to have changed partners multiple times, changing her son's name each time as well, making things murky. The best guess we could find at the time was that he was born Conrad Falk. But the AP now says:
He was born Konrad Robert Falkowski in Chicago on March 1, 1935. His great-grandfather had emigrated from Germany, and his grandfather founded several meat shops in Chicago called Hartman's. Conrad moved from one school to another, and at 15 he left his parents' house for a place known only to his girlfriend and his great-grandmother who sometimes fed him.
Variety agrees with that name (and the birth date). The Hollywood Reporter agrees on 1935, but still has his birth name as Conrad Robert Falk. But this time we're going with the AP and have updated our profile accordingly, with the birth name of Konrad Robert Falkowski.
Variety also adds this tidbit of 1970s macho:
His confrontation with Gabe Kaplan, star of "Welcome Back, Kotter" and the ABC team captain, on the 1976 edition of "Battle of the Network Stars" led to a famous moment of humiliation for Conrad: The latter insisted on a one-on-one 100 yard dash with Kaplan after a call that went against the NBC team, but Kaplan blew past Conrad during the improvised race to win handily.
Well, Robert Conrad was always up for a tumble. That AP obit says "Conrad had a reputation as a tough customer and was sued more than a half-dozen times as a result of fist fights." Thanks to his rugged stunt work on The Wild Wild West, he was even an honorary inductee into the Stunt Man Hall of Fame.
Here's hoping he's having a fist fight in heaven right now. At age 84.
How Old is Robert Conrad? Who Knows! »