A man walked into a New York art gallery with a shopping bag and walked out with a 1949 Salvador Dali painting. See the man, and watch an old clip of Dali on What's My Line?
The New York Post reports that on 19 June 2012 a man wearing a checkered shirt walked into the Venus Over Manhattan Gallery and said he wanted to photograph the Salvador Dali painting Cartel des Don Juan Tenorio. The security guard told him he could do that.
When the guard turned his back, the guy grabbed the painting off the wall, stuck it into his shopping bag and walked out. The painting, a remarkably ugly little thing, is said to be worth $150,000.
The man was caught by surveillance cameras. He looks like this: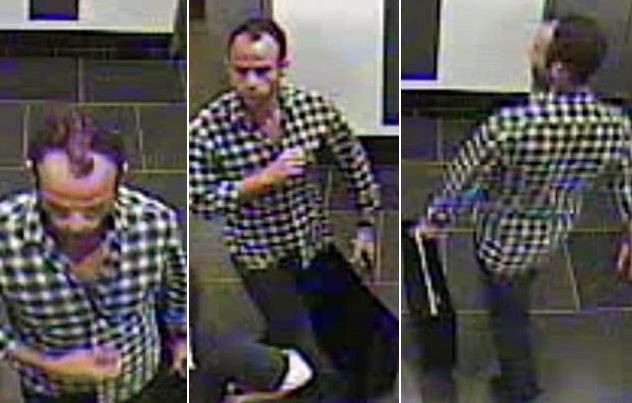 At least the New York Post has the sense to call the guy's shirt "checkered." Other reports call the shirt "black with white polka dots." Granted, it's not a very clear picture, but that shirt does not look like polka dots. Ask anyone, there's a pretty significant difference between checks or plaid and polka dots.
Now for your amusement, a video clip from the old game show What's My Line?, where the celebrity guest was none other than Salvador Dali. Kudos to Arlene Francis for being the one to figure things out — even though I suspect Arlene Francis and Salvador Dali probably knew each other from hoity-toity cocktail parties.
Salvador Dali on Tv show – WHAT'S MY LINE from Qefcho on Vimeo.