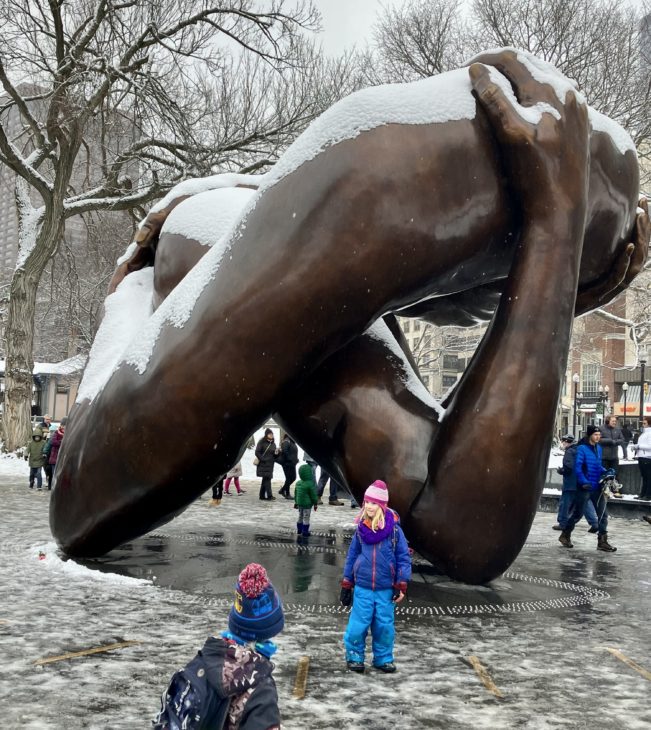 On a beautiful snowy Martin Luther King, Jr. holiday in Boston, we went to the Boston Common to see the new tribute to Dr. King and his wife, Coretta Scott King. The statue, or sculpture, is titled The Embrace.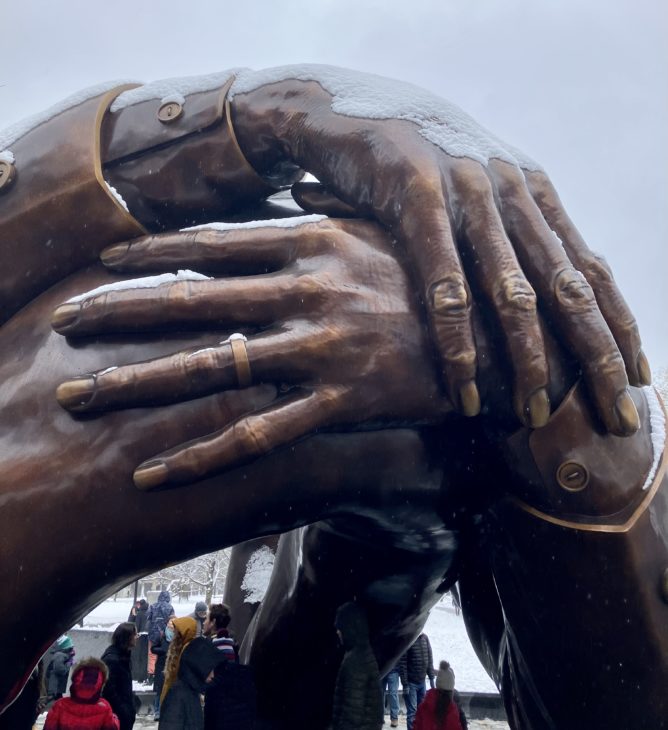 Let's start by saying that The Embrace is much more handsome, impressive, and delightful in person than it is in photos. You can walk around it and see it from all angles; you can walk underneath it and look up from below; you can touch the beautiful shiny bronze-tone surface. Lots of families on hand today.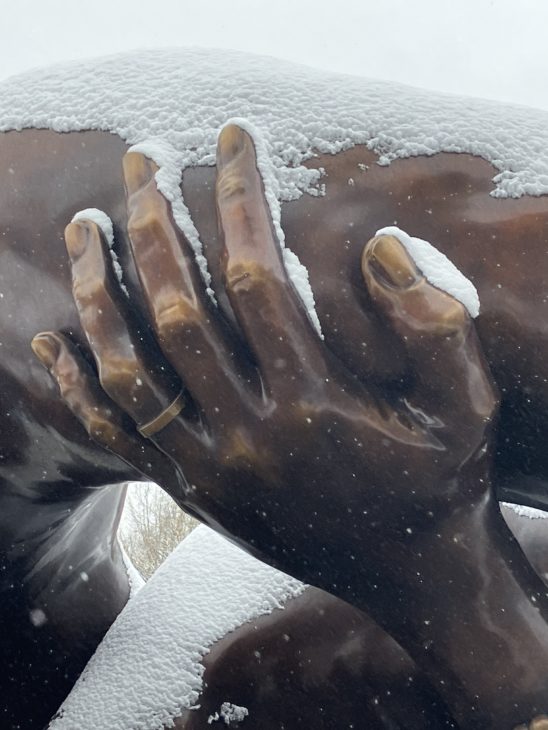 It helps to know that the sculpture is based on an actual photo of Martin and Coretta King taken in 1964, on the day he was awarded the Nobel Peace Prize.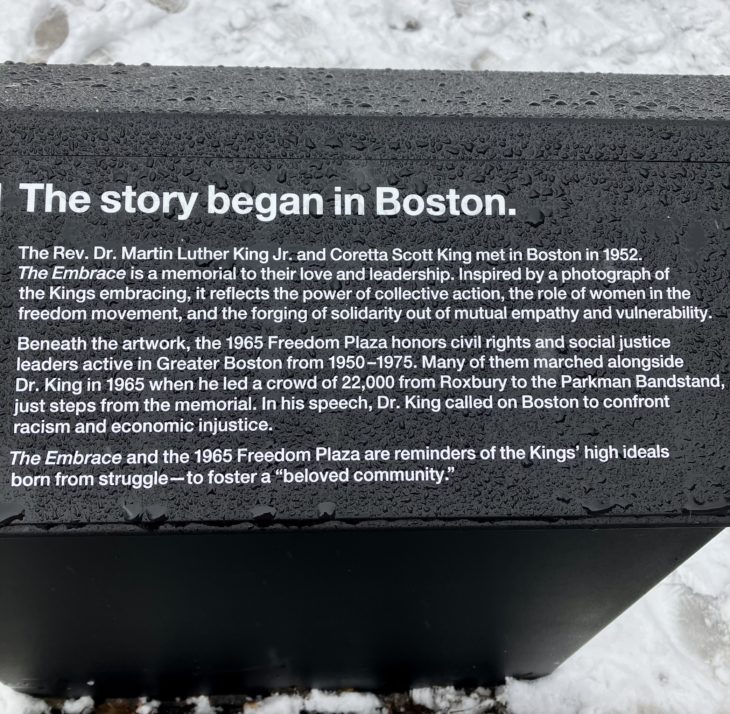 It also helps to know that Martin Luther King, Jr. and Coretta Scott met on a blind date in Boston in 1952. ("My first thought was, 'How short he seems,' and the second was, 'How unimpressive he looks,' Coretta wrote.") King was getting his Doctor of Divinity degree at Boston University; she was studying at the Boston Conservatory of Music. Years later, in 1965, Dr. King led a march of 20,000 people from the mostly-Black neighborhood of Roxbury to the Boston Common.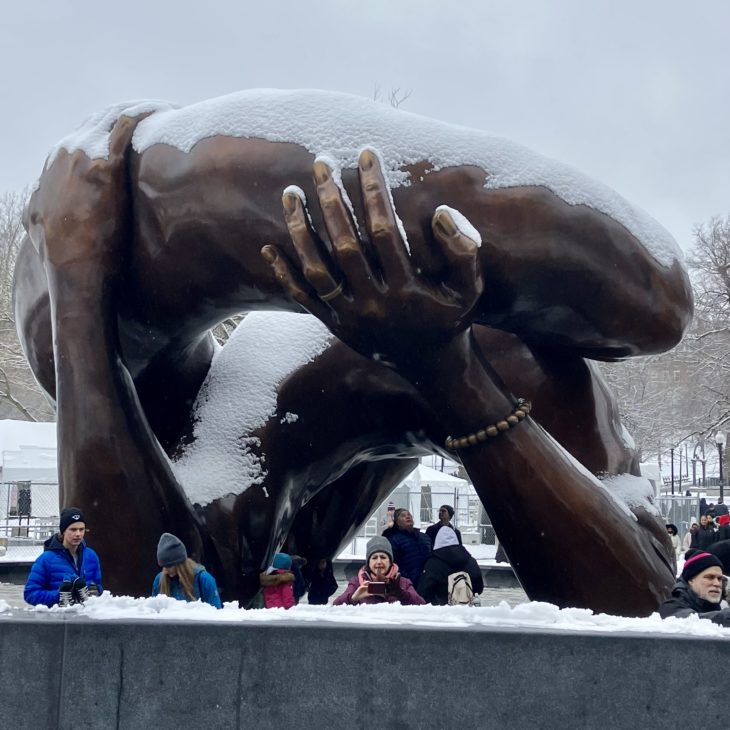 To be honest, much of the bad press the sculpture has gotten comes from photos of this one angle. (Leave it to Rupert Murdoch's New York Post to lead the sour complaints. MLK and Coretta King will always be remembered for the uplift and hope they brought to the world; old man Murdoch will be remembered for the anger and bitterness he spread so relentlessly.)
And OK, fair point: from this one very specific angle, it does look incomprehensible, like someone holding a giant gherkin or some kind of weird sci-fi critter. That's too bad, and it does make one wonder how the sculptor, Hank Willis Thomas, couldn't work out a solution for it.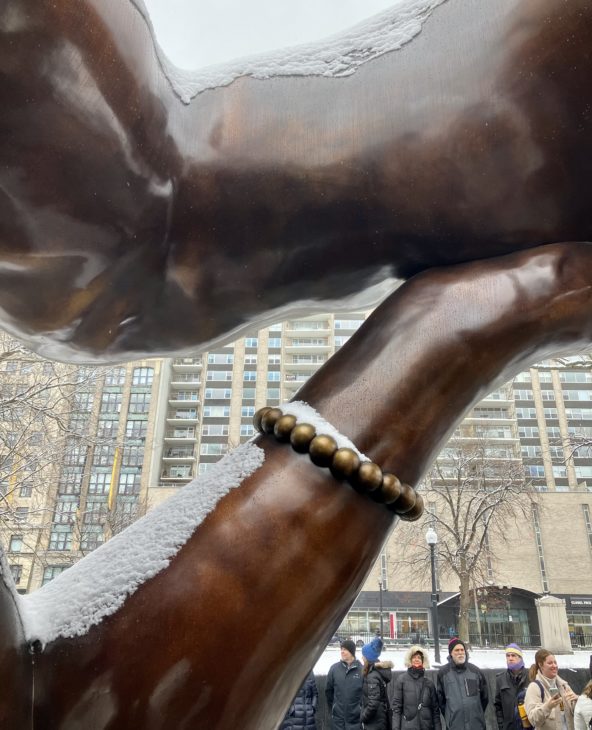 But the other 350 degrees of angles are terrific. Love Coretta King's bracelet. It's easy to get the point: these two people are supporting each other. The women in our party said they were delighted to see, for once, a celebration of the essential role of women in the Civil Rights movement.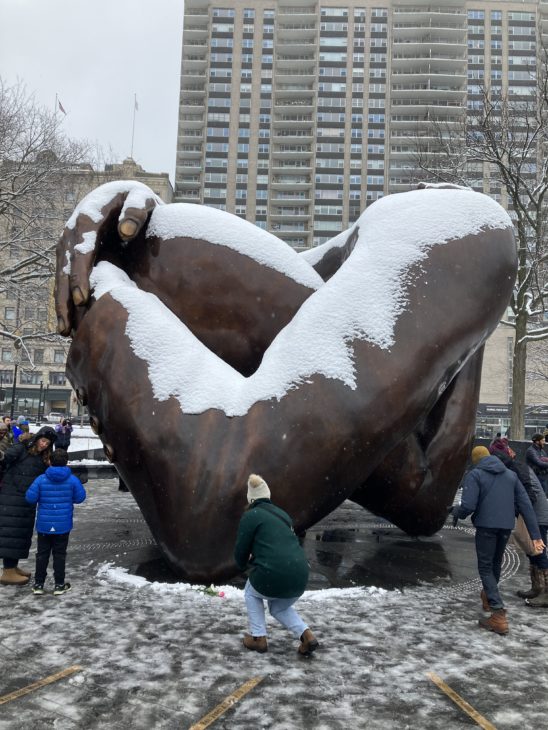 Several people pointed out that this angle suggests a heart. We felt lucky to see the statue in the snow, which really enhanced the views.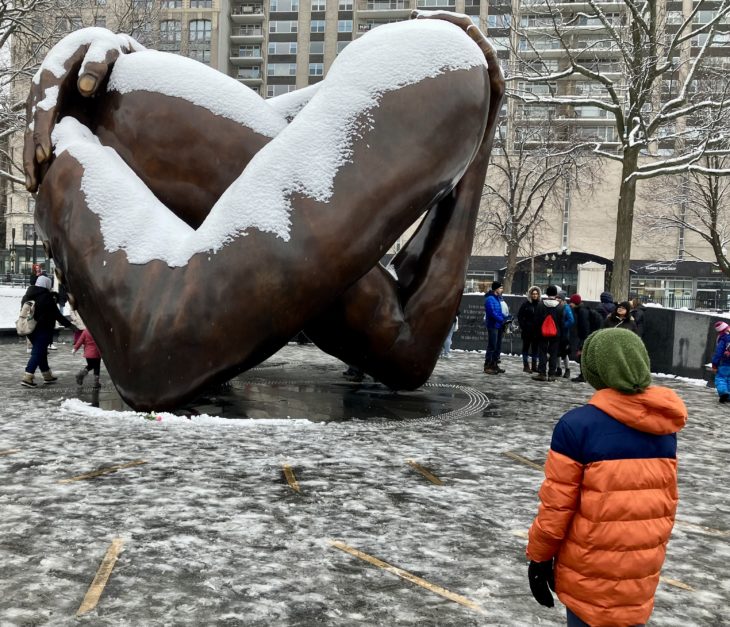 It was inspiring to see so many kids here to see this statue, and to think about what they might take away. What young people won't realize is possibly the greatest miracle of all in Boston, this city with a troubled (to say the least) racial history: A salute to Black leaders, by a Black sculptor, in a prominent spot in Boston's most iconic place, the Boston Common. That's terrific. It feels right. We were skeptics heading in, but we liked this sculpture a lot.
[ Note: In 2012 we also reported on the controversy around the Martin Luther King, Jr. statue on the Washington Mall. ]
Now see our biographies of Coretta Scott King and Martin Luther King, Jr.