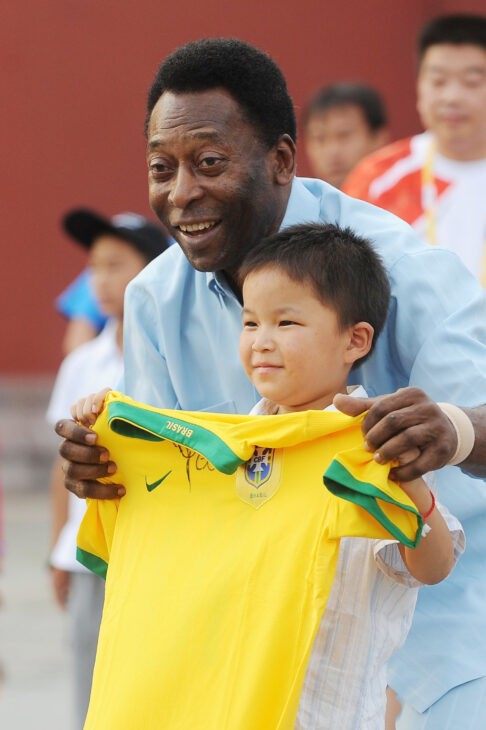 Brazilian football legend Pele at China's Imperial Palace in 2008 (WENN)
2022 was a typically busy year in famous deaths. We tracked the passings of 32 famous people, from world leaders Queen Elizabeth II and Mikhail Gorbachev to hyphenated heroes Olivia Newton-John and Jean-Luc Godard.
But three significant figures have come screeching in, as it were, at years' end to join the ranks of the departed. Two are of international significance, and one was a trailblazer here in the United States.
The football hero Pelé went first, dying of cancer on December 29th at age 82. For two decades, from the mid-1950s through the 1970s, Pelé was the global face of what Americans call soccer.  He was to Brazil what Lionel Messi is to Argentina today, and then some. He scored over 1000 goals for his Brazilian professional team, Santos, and won three World Cups in the iconic yellow jersey of Brazil in 1958, 1962, and 1970. In later years, as seen above, he remained both a Brazilian icon and football ambassador to the world. Pelé remains the only player ever to win the World Cup three times.
A day later, journalist Barbara Walters passed from the scene after a long illness, aged 93. Walters was a genuinely groundbreaking TV journalist, starting out as a rare female network news writer in 1961 and then moving in front of the camera despite a speech impediment. A self-described "pushy cookie," she became the first female to co-anchor a network evening news show, with ABC News from 1974-76.
Walters' middle career focused on celebrity interviews, with Walters often scoring "gets" with reluctant interviewees that others couldn't land. She was at times criticized for turning hard news into celebrity piffle. ("Analysts debated whether she had helped push network news down the slide toward sensation and trivia or merely rode the inevitable flow," as The Washington Post put it in their obituary.) In her later career, she was a founding host of The View, the popular morning chat show that is still running today.
Finally, on December 31, comes news of the death of the former Pope Benedict XVI. He was groundbreaking in a different way, resigning his position as Holy Father in a shock announcement in 2013. (The last pope to resign before that was Gregory XII, who stepped down six centuries years earlier.) Benedict was born Joseph Ratzinger in Bavaria, and had previously served as Prefect for the Congregation for the Doctrine of the Faith under Pope John Paul II. In that role he earned the nickname the nickname "Panzerkardinal" for his stern adherence to conservative church doctrine.
After John Paul II died, Ratzinger himself was elected pope in 2005, taking the name Benedict XVI, before stepping down and giving way to Francis I in 2013. His resignation has always been a bit curious, and was never explained beyond his statements that he had lost the strength to "steer the boat of Saint Peter and proclaim the Gospel." He spent the last several years in seclusion in the Mater Ecclesiae Monastery in the Vatican, where he died on the last day of 2022 at age 95.
Long lives! Three people who made their marks in very different ways. Tip of the cap to them, and to everyone who died in 2022.