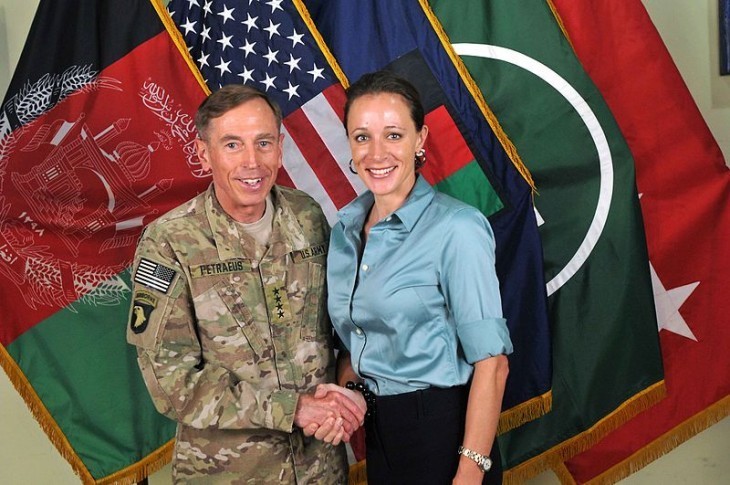 "The most pedestrian of trysts." That's what British writer Grace Dent calls the Gen. David Petraeus affair:
Washington and the CIA are clearly prone to the same sorts of life-distracting, heart-fluttering office nonsense which is happening the length of Britain, and more so than anywhere in the civilised world that owns a photocopier and a water cooler. "This is like a Greek tragedy," I heard a US political expert say yesterday. No, it's not, I thought. It's like January in a telesales company HQ in Cleethorpes after a very drunken Christmas party.

…By now, due to the amount of Petraeus news on offer, one would think there'd be one startling piece of sexual impropriety. But no, no cigar. Instead it's the smaller details that fascinate. Did Petraeus really lie in bed telling [Broadwell] about the Benghazi consulate? Why is the FBI searching her house? How did General John have the time to send Jill Kelley 20,000 pages of documents when I can't even schedule in my annual boiler service?
You do have to wonder how "Gen. John" Allen and Jill Kelley could generate 20-30,000 pages of emails in just three years. At 10,000 a year, that's nearly 28 emails a day. No wonder the war in Afghanistan isn't going so well.
Alas, even those emails have been downgraded from "potentially inappropriate" to just "flirtatious."
One senior official told CBS News correspondent David Martin that the vast majority of the emails between Allen and Tampa socialite Jill Kelley "are completely innocuous," and he thinks many of them are duplicates. He said that in some of the emails Kelley would say, "Saw you on television and you were terrific," and Allen would write back with, "Thanks, sweetheart."
So, which is the worse way for the commander of all U.S. forces in Afghanistan to spend his time: having illicit sex every now and then, or swapping 28 flirtatious emails a day with some woman in Tampa? If you're talking about actually winning the war, the latter is much worse, right?
All in all, you have to prefer the calm, quiet Kay Summersby approach. Another win for the Greatest Generation!
See our biographies of David Petraeus and Paula Broadwell »