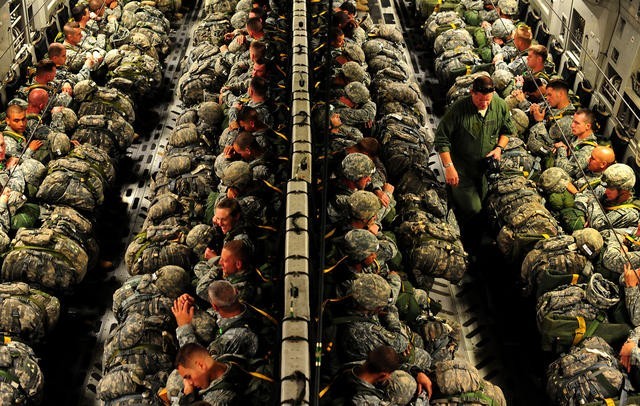 With 4,487 Americans dead and somewhere over 100,000 Iraqis dead (including Saddam Hussein), the American war in Iraq formally ended on Thursday.
In a fortified concrete courtyard at the airport in Baghdad, Defense Secretary Leon E. Panetta thanked the more than one million American service members who have served in Iraq for "the remarkable progress" made over the past nine years but acknowledged the severe challenges that face the struggling democracy.
President Barack Obama and his wife Michelle visited Fort Bragg yesterday to thank troops.
"Over the last three years, nearly 150,000 U.S. troops have left Iraq. And over the next few days, a small group of American soldiers will begin the final march out of that country… Those last American troops will move south on desert sands, and then they will cross the border out of Iraq with their heads held high. One of the most extraordinary chapters in the history of the American military will come to an end. Iraq's future will be in the hands of its people. America's war in Iraq will be over."
The White House also released a web feature titled "Promise Kept," touting "the fulfillment of a promise Barack Obama made to the American people even before he became President."
The liberal British paper The Guardian took a slightly more cynical view of the ceremony in Iraq:
In a makeshift parade ground in a corner of Baghdad airport, time was called on the war just after 1pm on Thursday, eight years, eight months and 26 days after its far more dramatic opening in March 2003.

…To the end, the relationship between Iraq and the departing US commanders remained difficult to gauge. The prime minister, Nouri al-Maliki, and the president, Jalal Talabani, did not turn up to the ceremony, with uniformed US soldiers belatedly moved into seats carrying the two Iraqi leaders' names.
The invasion of Iraq, launched by President George W. Bush, began on March 19, 2003 and lasted 3193 days in all.
(Photo: Soldiers of the 82nd Airborne Division prepare to parachute from an Air Force C-17 Globemaster aircraft during an operational readiness test in Gulfport, Mississippi in October. U.S. Air Force photo by Staff Sgt. Clay Lancaster.)