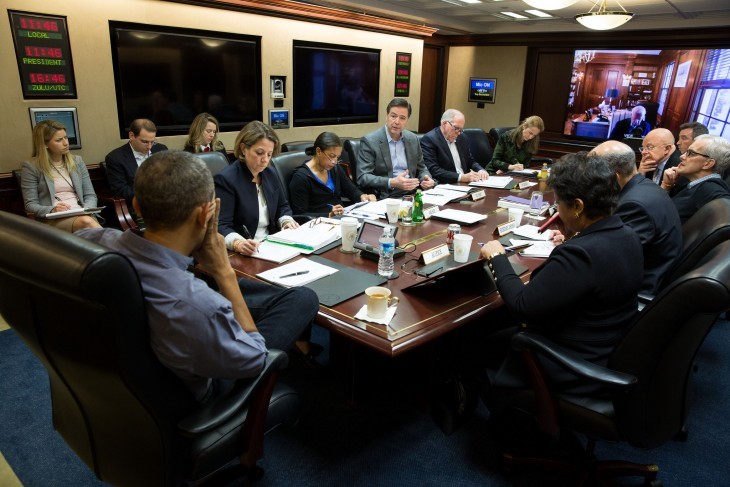 As we were prowling the White House Flickr photo feed recently, this photo of the White House situation room caught our eye. It's from December 5 of 2015; President Barack Obama is discussing the San Bernadino shootings with his team.
If we can ignore the sad occasion, there's something quite gripping about the precision and variety of those clocks.
On the left the clocks read:
11:46 LOCAL
11:46 PRESIDENT
16:46 ZULU/UTC
If the President happened to be in, say, Seattle, then PRESIDENT would read 8:46. "Zulu" is military speak for UTC, or Universal Time Coordinated — that is, the time at the prime meridian in Greenwich, England. We used to call this Greenwich Mean Time.
In the background there's a second clock, and it looks like this: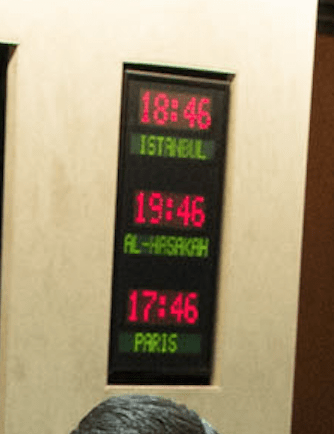 18:46  ISTANBUL
19:46 AL-HASAKAH
17:46 PARIS
Istanbul is the biggest city in Turkey. Al-Hasakah is a major city in Syria that was the scene of major battles with ISIL in 2015. Paris is Paris. It's not clear how those cities were chosen, but presumably they're left over from some earlier situation room discussion about the Middle East?
Let's look back at some other situation room photos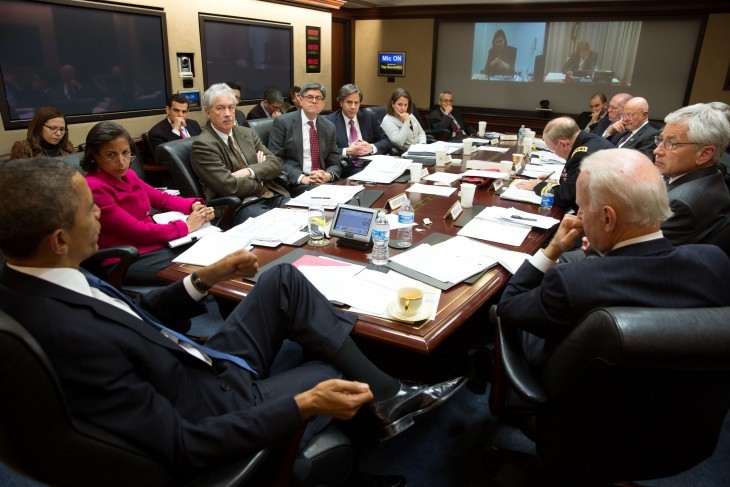 Here President Obama convenes a National Security Council meeting in the Situation Room to discuss the situation in Ukraine. The date is March 3, 2014.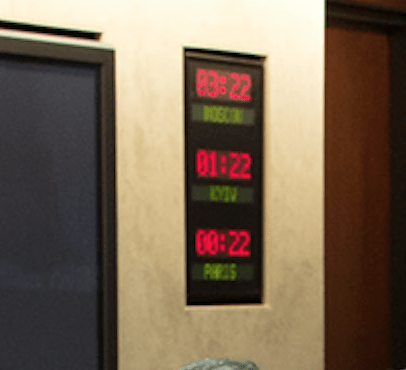 The clock in back reads:
03:22 MOSCOW
01:22 KYIV
00:22 PARIS
Kyiv is what we used to call Kiev; it's the spelling used by actual Kyivers in the Ukraine. Glad to see the White House is keeping up. And the clock is, obviously, germane to the discussion at hand.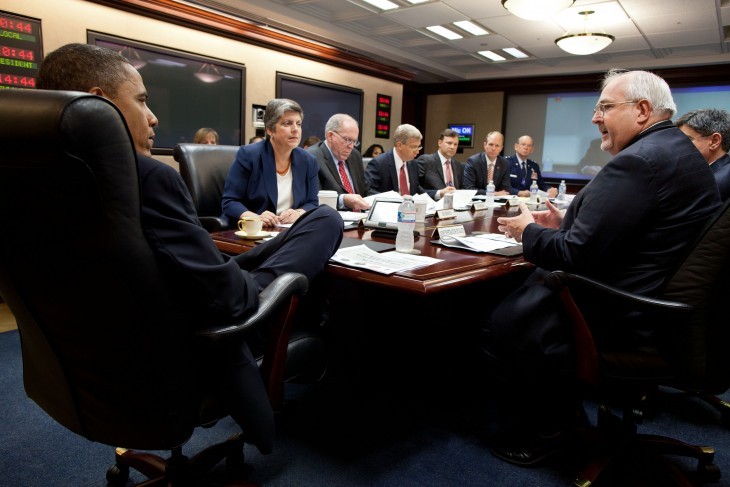 Here's President Obama taking part in the annual hurricane preparedness briefing on May 30, 2012. It's a little fuzzy, but…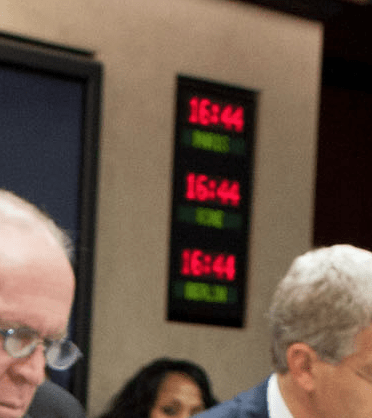 …I'm pretty sure that says PARIS-ROME-BERLIN back there, all at 16:44. That fits — all three are on Central European Time. Again, maybe this is a leftover from a previous meeting?
Or I wonder if Paris-Rome-Berlin is the default setting for all basic meetings? You'd think they'd do more of a world span: Tokyo / Rio de Janiero / Athens, or something.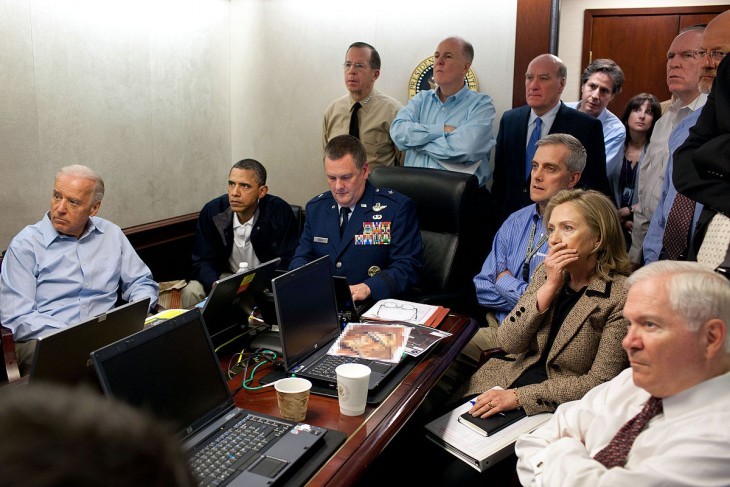 In case you were wondering about the famous photo of the White House team watching the killing of Osama Bin Laden, there are no clocks visible. Turns out this was in a smaller one of the three conference rooms that make up the complete White House situation room complex.
The situation room was created in 1961 by McGeorge Bundy, the national security advisor for John F. Kennedy, after the Bay of Pigs fiasco. Here's how it looked on February 3, 1977, with President Jimmy Carter at a National Security Council meeting shortly after he took office.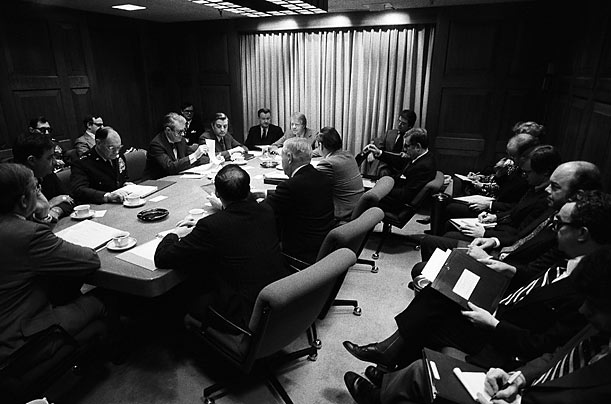 Good grief, how gloomy! You'd want to start a war in there no matter what was going on. And who can tell what time it is?
Here's how the situation room looked in 1986 as President Ronald Reagan listened to a briefing on Libya. Groovy wood panelling, yes, but no big clocks. It's frankly better to have lots of clocks. Who says nothing's improved in the last 30 years? The whole situation room was renovated and reopened in 2007, thank heavens.
This cool White House video from December 2009 shows the whole White House situation room complex, which includes not just the conference rooms but the high-tech watch floor and "surge room" as well. Fast forward to 03:38 and you can see that there are cool digital clocks all over.
So to recap: there are some big digital clocks in the main White House situation room, each showing the time in three separate locations. One version of the clock is constant with White House / presidential time; the other changes according to the discussion.
The only question remaining is: who sets the clocks? The left-hand clock stays the same, but somebody has to decide which cities to feature in the right-hand clock. Maybe there are arguments.  "Beijing!" "No, Singapore!" "Beijing!" "Singapore!"
Or "K-I-E-V!" "No, K-Y-I-V!"
That would be a fun job.
(All official photos from the White House; Obama photos taken by Pete Souza.)