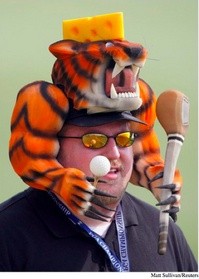 Can't resist pointing out this photo by Matt Sullivan for Reuters, taken during practice for this week's PGA Championships. The tournament is in Wisconsin — hence the cheese head atop the tiger. (That is, atop the tiger with giant biceps and claws holding a golf ball on a tee. Atop a baseball cap.)
If Tiger Woods feels his life is somewhat surreal, no wonder.
The photo is from a column about Tiger by one of my favorite sports columnists, George Vescey of The New York Times. Here's hoping Vescey never retires. He's great.
Another great golf(ish) photo by Sullivan from earlier this summer can be found here.