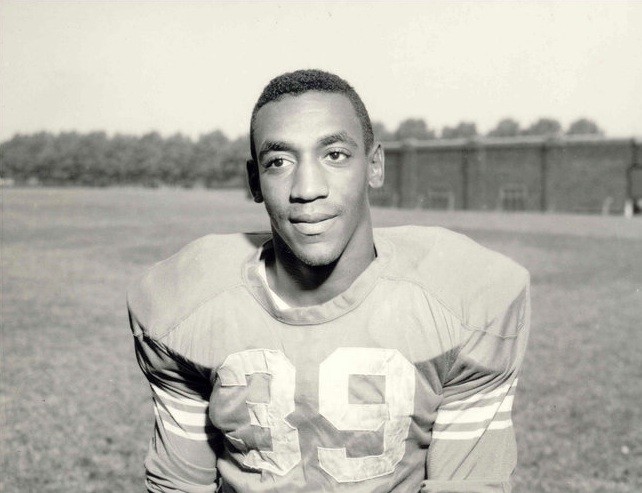 {Editor's note: First published on December 5, 2010. See our Bill Cosby biography for updates on his later convictions and imprisonment.}
"My father said, 'Junior, it takes a man to play football, but any fool can get up on the stage and make an ass of himself.'"
That's Bill Cosby, talking about college, comedy and football in a terrific interview with New York Times ace George Vecsey.
I knew Bill Cosby had a Ph.D. in Education (or an Ed.D., as it's called), and that he's often called Doctor Cosby, but I didn't know that before all that he had been a high school dropout. He quit high school and "wound up in the Navy, earning an equivalency diploma, tending to the wounded in a military hospital," says Vecsey.
Then Cosby went to Temple University, at age 24. Two years later he quit football and then quit college, too, but wore "a cherry-red Temple sweatshirt while working clubs in Philadelphia and New York." Cosby was "awarded his bachelor's degree by Temple in 1971," according to the Encyclopedia of African American History. (The same source says he joined the Navy after failing the 10th grade.)
Let's break this all down into a Bill Cosby educational timeline:
1937: Bill Cosby born
1956: Bill Cosby fails 10th grade at Germantown High School in Philadelphia
1956: Joins the U.S. Navy; earns his high school equivalency degree
1960: Discharged honorably from the U.S. Navy
1961: Enters Temple University (also in Philadelphia) on an athletic scholarship, probably at age 24
1961: Letters as a fullback on the Temple football team and runs track
1963: Quits Temple to do comedy full-time
1963: Does his first guest spot on The Tonight Show with Johnny Carson
1964: Releases his first comedy album: Bill Cosby Is a Very Funny Fellow… Right!
1965: Begins his run as a star of the TV show I Spy
1971: Awarded a bachelor's degree by Temple University
1971: Joins the cast of the educational TV show The Electric Company (through 1973)
1972: Master's degree in Education from the University of Massachusetts
1976: Submits doctoral thesis
1976: Ed.D. from the University of Massachusetts
Bill Cosby's doctoral thesis was titled "An Integration of the Visual Media via Fat Albert and the Cosby Kids into the Elementary School Curriculum as a Teaching Aid and Vehicle to Achieve Increased Learning." It's 142 pages long, with another 100 pages of bibliography and appendices.
Many sources (including the usually reliable Museum of Broadcast Communications) claim that Cosby earned his doctorate from UMass in 1977. However, 1976 is the correct year. His typed doctoral thesis is dated September 1976, and on its website the university repeatedly says he earned the degree in 1976, calling him "Dr. Bill Cosby (Ed.D. 1976)."
It doesn't sound like Cosby went to school full-time (or even part-time) to get his degrees. His bachelor's degree from Temple came in 1971, years after he left school. Temple awarded him the degree on the basis of life experience, and who can blame them? All Cosby had done after leaving school was become an international comedy star, earn three Emmy Awards for acting in I Spy, etc., etc. Naturally they wanted to recognize that and claim him as their own.
His grad degrees were also legitimately given, not honorary, but the details of how and when exactly he squeezed in classes are a bit elusive. On the first page of his doctoral thesis, Cosby thanks his advisor Dr. Norma Jean Anderson, saying "I am especially indebted for her faith in my doing graduate work, to the extent that she travelled to New York to personally recruit me into the graduate program."
I wonder if it's too much to assume from that phrase that Dr. Anderson saw an opportunity to boost the profile of UMass by recruiting an education-minded celebrity, and did so with a promise that the school would be flexible with courses and work around his schedule?
Here were some of the items on Cosby's work schedule from 1971-76:
Appeared regularly on The Electric Company and Sesame Street (starting 1971)
Created and starred in Fat Albert and the Cosby Kids, the iconic Saturday morning show (starting 1972)
Created and starred in the short-lived primetime series The New Bill Cosby Show (1972)
Created and starred in the short-lived primetime variety series Cos (1976)
Starred in the feature films Uptown Saturday Night (1974), Let's Do It Again (1975) and Mother, Jugs and Speed (1976)
So it's clear Cosby wasn't hanging out on campus too much. None of which is to say Bill Cosby didn't earn his degrees or doesn't deserve them. Even if Cosby got an occasional free pass here and there on the way to his degrees, how rare is that? (He certainly wouldn't be the first football player in college history to get a degree without completing every last course.) Also, he donated $23 million to Spellman College in 1993, and he deserves a Ph.D. for that alone.
But others have gotten tetchy about Cosby's degrees, it turns out. Author and academic Michael Eric Dyson presented the story this way in his 2006 book Is Bill Cosby Right?:
[Cosby] dropped out of high school after he flunked the tenth grade three times. He enlisted in the navy, where he got his GED, and then enrolled at Temple University, where he dropped out to pursue a show business career. His unfinished bachelor's degree from Temple was eventually bestowed on him because of "life experience." Cosby enrolled as a part-time doctoral student at the University of Massachusetts at Amherst, which awarded him the Ed.D. degree in 1977 for a dissertation on Fat Albert and the Cosby Kids.

But not even that degree was unsullied by controversy: A professor who served on Cosby's dissertation committee, Reginald Damerell, said that Cosby hardly took a class — and that he got course credit for appearing on Sesame Street and The Electric Company, "and wrote a dissertation that analyzed the impact of his show." Damerell concluded that degrees like Cosby's "do not attest to genuine academic achievement. They are empty credentials."
Dyson then backtracks a little, saying that Damerell's conclusion is "harsh and unfair," but that doesn't stop Dyson from putting those skeptical quote marks around "life experience." He also notes the "ironic route Cosby has traveled to become nearly as acclaimed for his educational pedigree as for his comedic genius."
Dyson's book attacks Cosby for blaming black parents and kids for their failures — "It's a good thing Cosby didn't have Bill Cosby around to discourage him from achieving his goals," he says — so his comments on Cosby's education might be taken with a grain of salt.
His statement that Cosby flunked tenth grade three times, though, accounts for why Cosby was 18 or 19 when he finally gave up and joined the Navy in 1956.
The other thing that stands out in that educational timeline is how rapidly Bill Cosby rose in comedy. He gets out of the Navy in 1960, starts school in 1961, and two years later he's doing standup for Johnny Carson. The next year he has a hit comedy album, and the year after that he's starring in I Spy and winning Emmy Awards.  That's impressive.
As a final side note, Cosby's wife Camille earned her own doctorate in Education from the University of Massachusetts in 1992. So there are two Doctor Cosbys in the house.
(Photo: Temple University, via The New York Times)