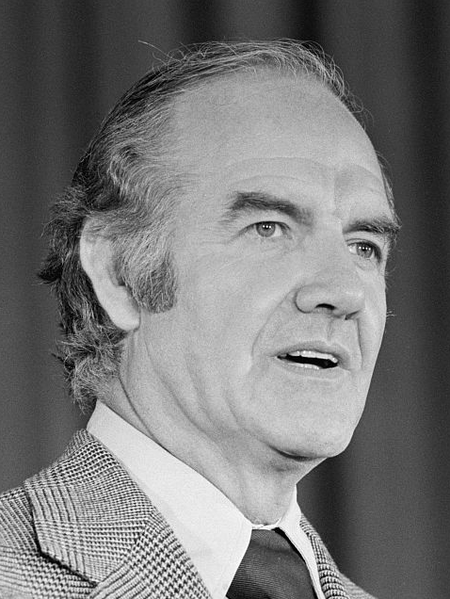 Our biography of George McGovern is now live.
His family announced on Wednesday that the former senator had entered hospice care for an undisclosed illness and was "no longer responsive."
George McGovern was the first presidential candidate I was really aware of and cared about, back in 1972. My grandfather on mom's side was a progressive farmer in Eastern Oregon, giving him something in common with a progressive from farm country in South Dakota, and we joined the Million Member Club.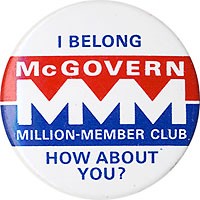 McGovern's idea was to get a million small donors to give $5 or $25 — enough to run for president in those quaint days.
George McGovern was a certified war hero who flew 35 bomber missions over Europe in World War II, winning the Distinguished Flying Cross along the way. Yet somehow in the 1972 election he was painted as a liberal wimp by the forces of incumbent President Richard Nixon — a guy who had spent the war playing poker in his safe rear-echelon job as a supply officer. ("His unit prepared manifests and flight plans for C-47 operations and supervised the loading and unloading of the cargo aircraft.")
It didn't make sense to my 11-year-old self then, and it doesn't now. But at least it wasn't so surprising to see George W. Bush pull the same trick, just as successfully, on John Kerry in 2004.
George McGovern lost the 1972 race in one of the all-time great political landslides, 520 electoral votes to 17. McGovern carried only the state of Massachusetts and the District of Columbia. He got the last laugh, in a way, after the Watergate scandal broke the next year and Nixon resigned in well-earned disgrace in 1974. Turned out Massachusetts and DC knew what they were doing.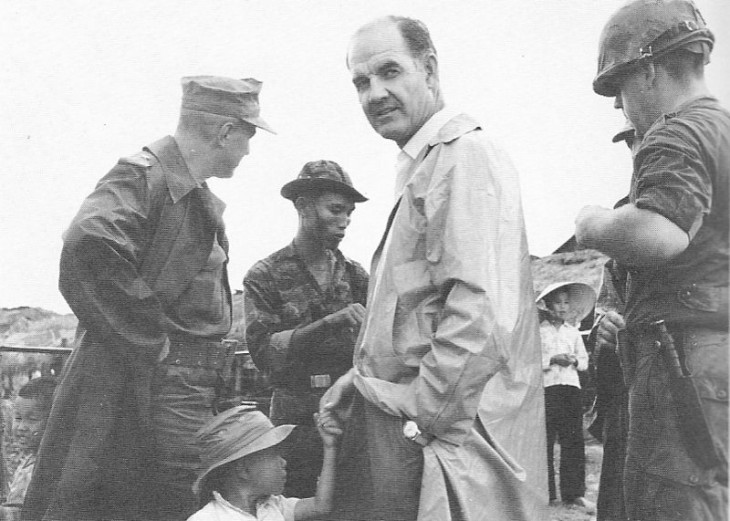 McGovern was right about the Vietnam War, too. He first visited Vietnam in 1965 (above), and not much later, while most other Congressmen were cheerleading the war, he was calling it "a moral and political disaster—a terrible cancer eating away the soul of the nation." Not so many people would disagree with that analysis now.
George McGovern was a senator from South Dakota from 1963-81, and he ran for president again in 1984, mostly as a liberal protest candidate in the face of the Reagan Revolution. In later years he taught history, wrote books, and devoted himself to his favorite cause: fighting hunger.
He was a great public servant — sorry to see him pass on, even at the grand old age of 90.
See our full George McGovern biography »