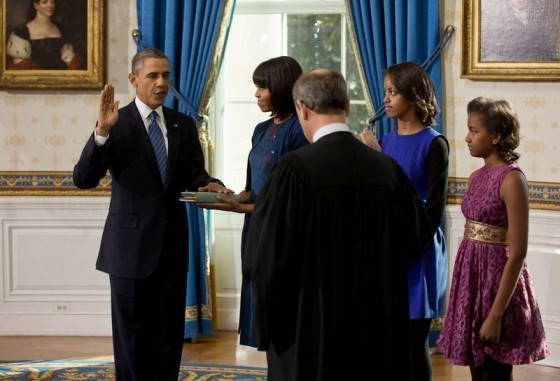 Barack Obama has been sworn in for his second term as president of the United States, with his family looking on:
President Obama recited the oath of office with his hand atop first lady Michelle Obama's family Bible. Following the brief ceremony, the president received praise from his daughters: "I'm so happy!" Malia Obama told her father, followed by Sasha Obama's, "Good job, Dad. You didn't mess up."
Chief Justice John Roberts did the swearing-in.
Also, the White House has released the official portrait of Barack Obama for the next term, taken by White House super-photog Pete Souza:
Nice shot. But bet that by the year 2017, he'll be glad to wear a suit without having to stick an American flag on the lapel every single time.
See our biography of Barack Obama »