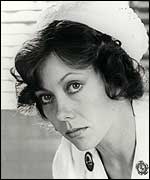 The British actress Jenny Agutter turns 58 today.
She was born on this day in 1952 — the same year of birth as fellow U.K. actors Liam Neeson and Jack "H.R. Pufnstuf" Wild. In fact in 1970, the same year that Jack Wild was starring in the movie Pufnstuf, Jenny Agutter was starring in her breakthrough film The Railway Children.
That's a beloved family film in Britain, though it's relatively unknown overseas. Agutter had a nice little redux 30 years later, appearing in a TV movie remake of The Railway Children in the role of Mother.
She was also quite fetching as the nurse in the 1981 film An American Werewolf in London.
Here's a cheery 2005 interview with Jenny Agutter from the Bradford Film Festival, which held a retrospective of her work in 2005.
See more photos of Jenny Agutter >>