English author J. G. Ballard was born today in 1930, in Shanghai, China. He died last year at the age of 78. In his honor, I stacked some stuff on a cat.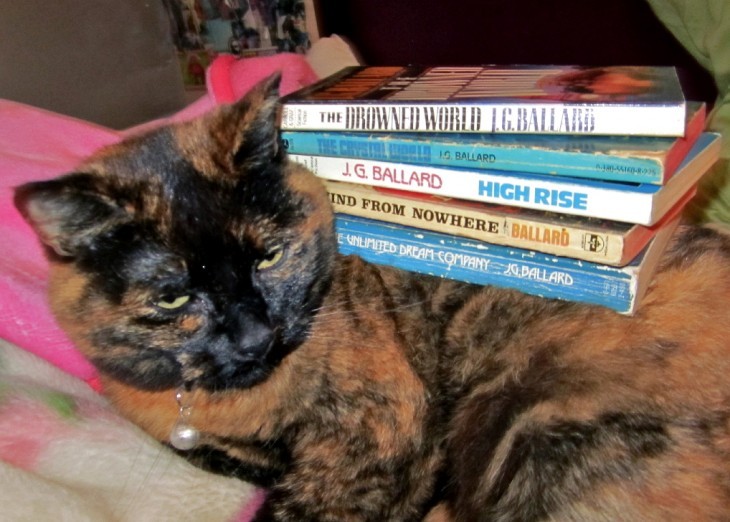 I began reading J.G. Ballard around 1983. The first thing was the novel The Unlimited Dream Company (1979).
From there I read a bunch, one after the other. Some were more famous than others by the mid-1980s. Around the same time, Ballard became one of those underground heroes who provided fodder for the entrepreneurs of the emerging alt industry. Certainly a darling of the RE/Search set, but more disciplined than William S. Burroughs, more substantial than Allen Ginsberg, not as boring as Jack Kerouac and easier to access than Throbbing Gristle.
After Steven Spielberg made a movie from Ballard's semi-autobiographical Empire of the Sun in 1987, it was easier to find copies of his books. Prior to that I had to search used bookstores for old copies of books like The Wind From Nowhere and The Crystal World.
I don't know in what order, but I ended up reading Concrete Island and Crash and Drowned World and Hello America and High Rise and The Day of Creation.
I don't claim to be a Ballard expert, and I'm certainly not a collector — I just like to read his stuff because it's alienating and funny. Imagine if Albert Camus had managed to crack a few sly jokes in The Plague — that's how I generally think of J.G. Ballard.
I lost my way and interest through Cocaine Nights and Super -Cannes, however, and didn't read him much for a few years there.
There were still some bright spots… I liked Running Wild and I liked his other sorta memoir, The Kindness of Women. But a little of the bloom had worn off for me.
Then two or three years ago I read The Day of Creation again, followed by re-readings of The Drowned World and High Rise, then several short stories. I liked the short stories very much, and some of them are hilarious. Take the time to read Why I want to F*** Ronald Reagan or The Assassination of John Fitzgerald Kennedy Considered as a Downhill Motor Race someday.
All in all, he had a long and productive career, even if he probably didn't start enjoying success until later in his life. And sometimes I pick up a book of his and simply read a few pages, just to get a little of that J.G. Ballard flavor. That's the kind of author I like.
So happy birthday, James Graham Ballard, wherever it is you didn't go.