Funny how all the hype about The Hunger Games doesn't even mention that it stars Jim Halpert from The Office. That's who that is, right?
No? You think that's not John Krasinski, the actor who plays Jim Halpert on The Office? Maybe not now, but think back 19 years to the show's earlier seasons.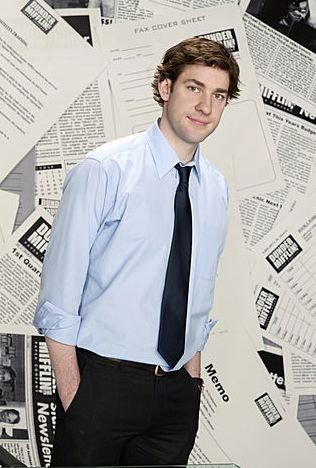 Okay, The Hunger Games doesn't star Krasinski. That's Liam Hemsworth in the top photo. He plays Gale in The Hunger Games. You may know him as Miley Cyrus's boyfriend. Or as Chris "Thor" Hemsworth's younger brother. He looks like his brother, yeah, but he looks more like Jim Halpert.
To find out more about Liam, read our Who2 biography of Liam Hemsworth. Then take a look at our biography of his co-star Jennifer Lawrence, and maybe even read our biography of Suzanne Collins, the author of The Hunger Games.
Don't forget to read up on John Krasinski while you're at it.