The film adaptation of Jack Kerouac's On the Road is coming to a theater near you. If you live near Cannes. The ads boast Kristen Stewart as one of the stars. The Twilight star is once again torn between two lovers, except this time they pretty much love each other.
The film version, directed by Brazilian Walter Salles, stars Sam Riley and Garrett Hedlund as Sal Paradise and Dean Moriarty. In the 1957 book, Paradise is sort-of Jack Kerouac and Moriarty is sort-of Neal Cassady. Sam Riley did a terrific job in the 2007 film Control playing Ian Curtis, the doomed singer from Joy Division. Garrett Hedlund played the son of the Jeff Bridges character in the 2010 movie Tron: Legacy.
Kristen Stewart plays Marylou, Dean's wife– that is, one of Dean's wives. Kristen Stewart played Bella in the Twilight movies, in which she proved just how good she is at biting her lip to express emotion. Although Marylou isn't exactly a main character in the book, she comes and goes as a foil for the two guys.
Here's the first released trailer:
And the official site for the movie has all kinds of breaking news, as well as movie posters like this one: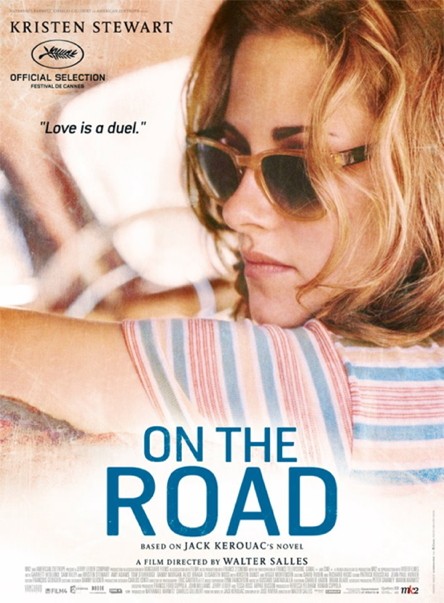 Yes, I'm only showing the poster of Kristen Stewart to needle the hardcore Kerouac fans, some of whom are wincing at the prominence she's been given. Kind of like, say, making Samwise Gamgee the centerpoint of your Lord of the Rings campaign.
Walter Salles is the same man who directed The Motorcycle Diaries, the 2004 movie about another iconic traveler, Che Guevara. For his On the Road adaptation, Salles took a long road trip across the USA, alá Kerouac and Cassady.
Despite a modest budget (reportedly around $28 million), the film has some big-name guest stars, including Kirsten Dunst, Viggo Mortensen, Amy Adams, Steve Buscemi and Terrence Howard. It's being executive produced by Francis Ford Coppola.
Will the movie give Kristen Stewart arthouse cred? Will her presence make Twilight fans discover the drug-and-alcohol fueled prose of Jack Kerouac? Will Kerouac fans be happy? Are Kerouac fans ever happy?