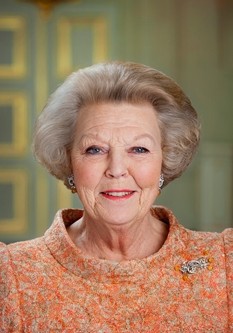 Queen Beatrix of the Netherlands told her subjects today that she will step down as queen on April 30th.
Her son, Prince Willem-Alexander, will take over as king that same day.
Queen Beatrix has a colorful story. She was only two years old when her family fled from The Netherlands in 1940, just ahead of the Nazi occupation during World War II. She spent the war in Canada, and her family returned home, victorious, in 1945, the year Beatrix turned 7.
Ironically, she later chose a German for her husband. She and the German diplomat Claus von Amsburg were married in 1966 amid controversy: he had been a member of the Hitler Youth and, briefly, a soldier in the German Army.
But love had its way, as it will, and the couple were eventually embraced by their Dutch subjects. As crown princess, Beatrix had three sons bam-bam-bam: Willem Alexander in 1967, Friso in 1968, and Constantjin in 1969. It was an impressive display of fidelity and fertility.
Queen Beatrix's abdication now is not much of a shocker, because that's also how she became queen in 1980. In fact her mother Juliana and grandmother Wilhelmina both abdicated in their turn: Wilhelmina in 1948 (at age 68) and Juliana in 1980 (on her 70th birthday).
The royal role is largely ceremonial in The Netherlands, in any case. Beatrix had
240 official engagements
in 2012, compared to 425 for
Queen Elizabeth
of the UK. (
Prince Charles
beat them both with 596 — an average of 1.6 engagements a day, every day of the year.) Prince Claus died in 2002, and Queen Beatrix is now seen as a "surrogate grandmother" in the Netherlands, according to
the BBC
, which adds that "under Dutch law it is still illegal to insult the queen."
I have always considered it a special privilege to have spent a large portion of my life in the service of our country and to fulfil the task of monarch. Prince Claus, for many years, was my great support.

This wonderful task has never given me anything but great satisfaction. It has been inspiring to have been involved with the lives of people, to share their grief and to experience moments of joy and national pride…

I do not abdicate, therefore, because the task has become an onerous one, but because I am convinced that the responsibility for out country should now be placed in the hands of a new generation.