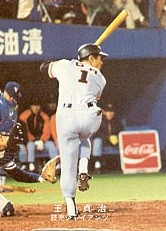 Happy 71st birthday to baseball legend Sadaharu Oh.
Oh is still the all-time global home run leader, with 866 dingers. That's over 100 more than both American "champ" Barry Bonds (762) and the real American champ, Hank Aaron (755).
If you want to complain that the Japanese leagues aren't quite up to the mark of American baseball, knock yourself out. Oh is still The Man. And his flamingo-style batting stance is the best.
Here's a detailed study of how Sadaharu Oh might have done had he played his career in the US, projecting things out with all the usual caveats. Bottom line: "Quality is still quality."
See our biography of Sadaharu Oh >>