Turns out that while Tareq and Michaele Salahi were busy crashing the White House state dinner in November, another more discreet gate crasher was also making his move. (No, not Buzz Aldrin.)
Seems Carlos Allen, a "Washington party promoter," tagged along with the Indian delegation as it left its hotel on the way to the party. Once there he was waved through, or ignored, just as the Salahis had been, even though his name wasn't on the guest list.
Unlike the Salahis, Allen didn't crow about it on Facebook the very next day. Though he does seem to have come around to it eventually: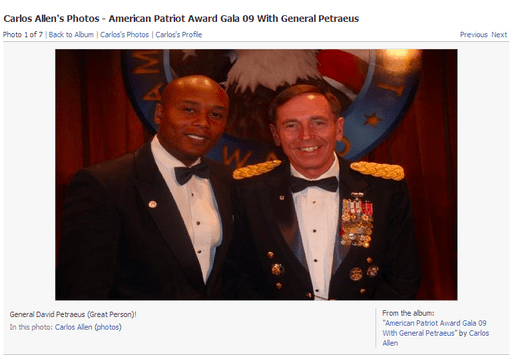 That's Allen on the left, with Gen. David Petraeus.
Whatever happened to gate crashers who slugged down a few free drinks, scarfed some hors d'oeuvres, peeked in the Oval Office and then quietly split?