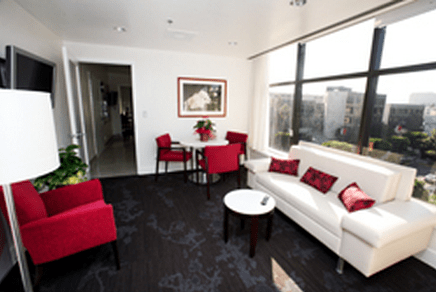 We've always known that the Cedars-Sinai Medical Center was a swanky place to die.
Turns out that the Beverly Hills hospital is a glossy place to give birth, too. Kim Kardashian proved the point on Saturday, when she gave birth to her daughter North West in an "ultra-luxury maternity suite at Cedars-Sinai Medical Center costing as much as $4,000 a day."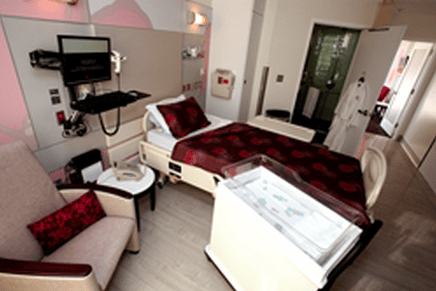 $4030 to be exact, according to the hospital's
own site
. For that you get what Cedars calls "the special touches that enhance the post-partum experience":
After your baby is born, you will be taken to your reserved Deluxe Maternity Suite, offering the finest in comfort for you, your baby and family members… A personal doula will attend to both you and your baby's specific needs during your hospital stay, helping to familiarize you with infant baby care… This special touch makes the deluxe experience unique.
Indeed! Besides the doula (specially trained and certified), you get three rooms and two bathrooms with "all the comforts of home":
Every deluxe suite includes an in-room refrigerator stocked with complimentary chilled juices and bottled water and a welcome basket. Both parents receive three meals per day from deluxe food services, with vegetarian and vegan options available… A flat screen television and WiFi are standard in both the patient room and adjacent sitting room. New mothers are provided with a hotel-style robe as our gift to you.
For an added fee you can also get a manicure and pedicure. For mom, that is, not for North… although with the Kardashians, you never know.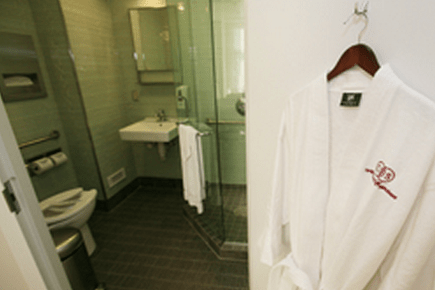 Pedicures, flat-screen TV, free robes and a view — it's like having your baby on the Las Vegas strip! (As it happens, the
Hangover Suite
at Cedars Palace — er,
Caesar's
Palace — goes for almost exactly the same price: $4100 a night. Take your pick.)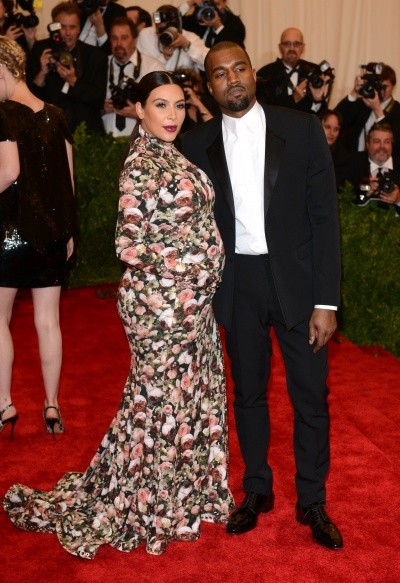 So it's no wonder Kim Kardashian and boyfriend
Kanye West
have been dressing up lately. Just getting in the mood for the big weekend at Cedars!
Cedars says the Deluxe Maternity Suite is "the perfect way for friends and relatives to give you a truly special gift." As long as you have the kind of friends who can pony up $8000+ for a two-day stay. Don't forget that it's traditional to tip the doctor $10 for every ounce of birth weight.
And don't expect Blue Cross to chip in: "This deluxe service is not covered by insurance and there are no half-day rates."