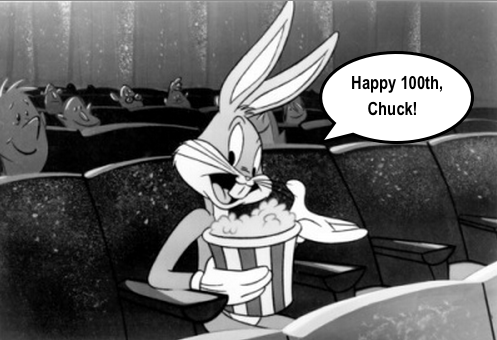 Chuck Jones, the gleeful and subversive Warner Brothers animator who made Bugs Bunny a star, celebrates his 100th birthday this week. (We'll be celebrating, anyway — he died in 2002.)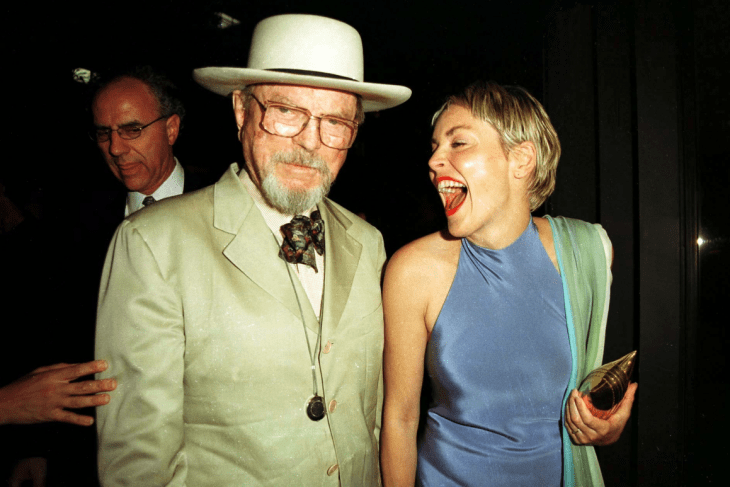 (Chuck Jones with Sharon Stone at a charity benefit in 1999. Photo by Axelle Wousson / WENN)
Chuck Jones was born in Spokane, Washington on September 21, 1912. (He briefly overlapped there with another Spokane boy, Bing Crosby, who was born in 1903.) Jones and his family moved to Los Angeles, where he became an animator and then joined the Warner Brothers cartoon factory in 1936, becoming a director in 1938.
Two generations of youngsters (or three?) have Chuck Jones to thank for their Saturday-morning lineup of Bugs Bunny, Wile E. Coyote, Elmer Fudd, and all the rest of the Warner Brothers cartoon gang. Jones didn't invent Bugs Bunny — the credit for that goes mainly to fellow animator Tex Avery — but Chuck Jones directed many of the later cartoon shorts that made Bugs an icon, including the celebrated What's Opera, Doc?
How good was he? In the 1992 book The 50 Greatest Cartoons: As Chosen by 1000 Animators, four of the top five cartoons were directed by Chuck Jones.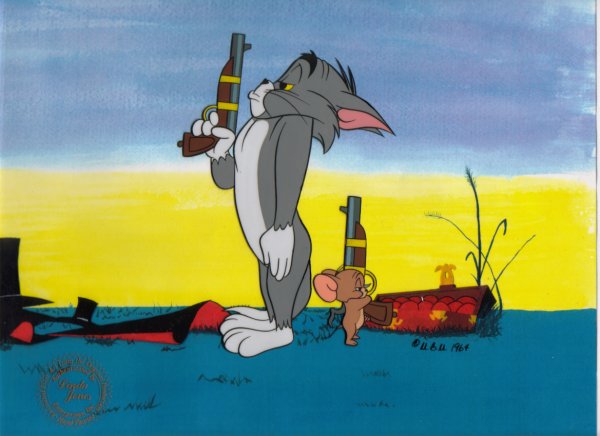 Warner Brothers closed its animation division in 1962 and Jones went on to direct a slew of Tom and Jerry cartoons — giving them the edge (and the half-mast eyelids) they'd never quite had before.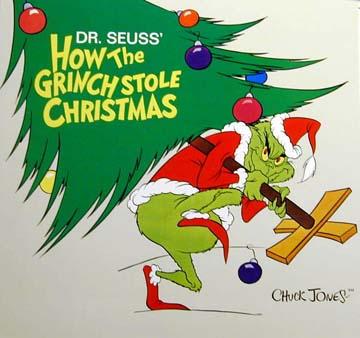 But his greatest triumph in those years was directing How the Grinch Stole Christmas, the 1966 animated version of the classic tale by Dr. Seuss.  The hideous and shameful stream of Dr. Seuss films of the last decade (yes, we mean The Lorax) only prove Chuck Jones's genius all these years later.
I was lucky enough to meet Chuck Jones in 1991 when he visited Will Vinton Studios in Portland. (If by "meet" you mean "see him on tiptoe from behind a throng of normally-cynical animators who were now gathered, enthralled, around their hero.") He toured the studio and did a long Q-and-A session, and was calm and wry the whole way.
I'm sure by then he was used to the adulation. Here's a great shot from 1978, taken by fan Alan Light at Chuck Jones's office in Los Angeles.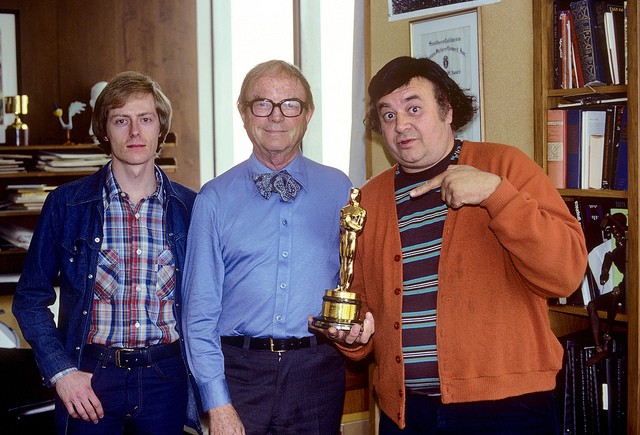 (Photo by Alan Light)
That's Jones in the center, of course, with Light (left) and fellow fan Shel Dorf. (Dorf, incidentally, was a founder of the early San Diego Comic-Con.) The Oscar is probably for his 1966 animated short The Dot and the Line; Jones was also given an honorary Oscar in 1996.
Jones's 1989 autobiography, Chuck Amuck, is a fabulous read, with tons of helpful illustrations. The Emmy TV Legends site also has a swell video interview with Jones from 1998.
And here, for as long as it stays up online, is his 1953 cartoon Duck Amuck.
So: happy 100th birthday, Chuck Jones! Those were some great cartoons.
See our full biography of Chuck Jones »