It sounds more frightening than it is. The LBJ Time Machine is one example of how the U.S. National Archives are popularizing presidential history.
The Lyndon Baines Johnson Library and Museum now has a Tumblr site, The LBJ Time Machine. They've mined their archives and are presenting photos of Johnson and LBJ-related artifacts every day, in anticipation of next year's reopening (the library has been redesigned). They've also reached out to find other sites with bits of LBJ trivia.
The LBJ Time Machine is also linked to the National Archives by way of the Tumblr site Our Presidents, a more general collection that includes things like this: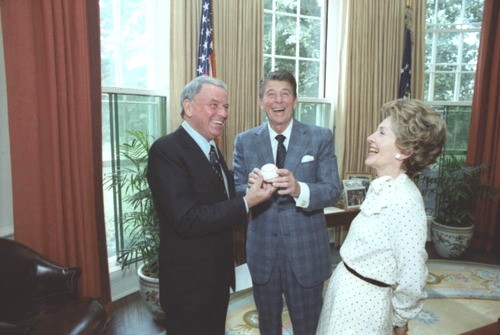 As you can see from this photo, President Ronald Reagan and once-famous singer Frank Sinatra joke with First Lady Nancy Reagan about baseball. It's possible that the baseball in this photo is the actual ball used by Reagan to end communism and make America feel good again (for a while).
The Our Presidents Tumblr is a collection of items from 13 different presidential libraries, so its focus is on those archives (from Herbert Hoover through George W. Bush). And yet, they still have plenty to offer anyone interested in the presidency in any way. And I mean any way, as evidenced by this recent post: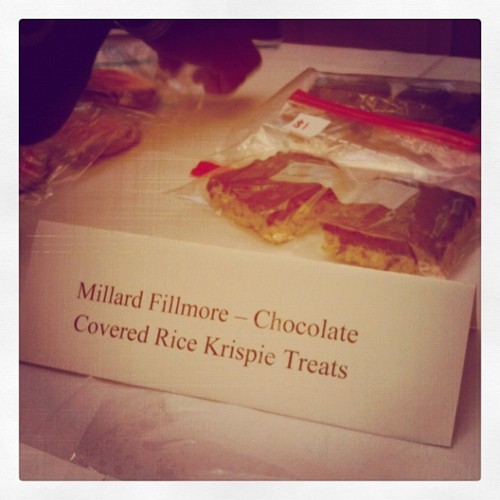 History buffs will immediately recognize that these Rice Krispie Treats could not have possibly been made during the administration of President Millard Fillmore (1850-53). The nation, of course, was still reeling from the Great Rice Krispie Embargo and Panic of 1848.
(Main photo from the LBJ Library and Museum. That's young Lyndon on the far right, with debate mentor Professor Howard Greene on the left.)