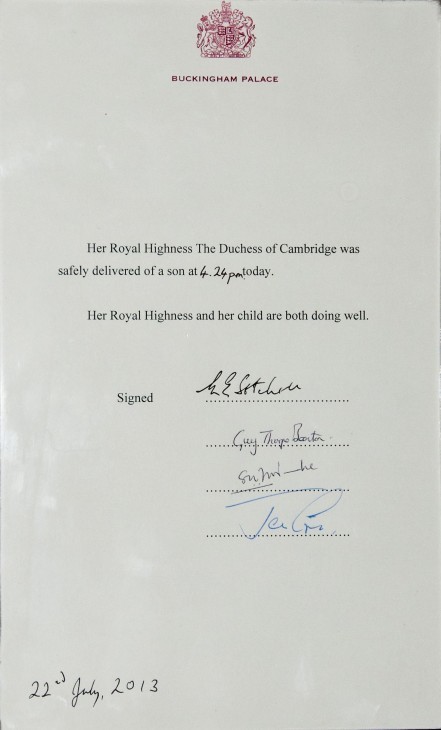 The Prince of Cambridge, the first child of Prince William and the Duchess of Cambridge, was born today in London. That's the official announcement above, reading simply:
Her Royal Highness The Duchess of Cambridge was safely delivered of a son at 4:24 pm today. Her Royal Highness and her child are both doing well.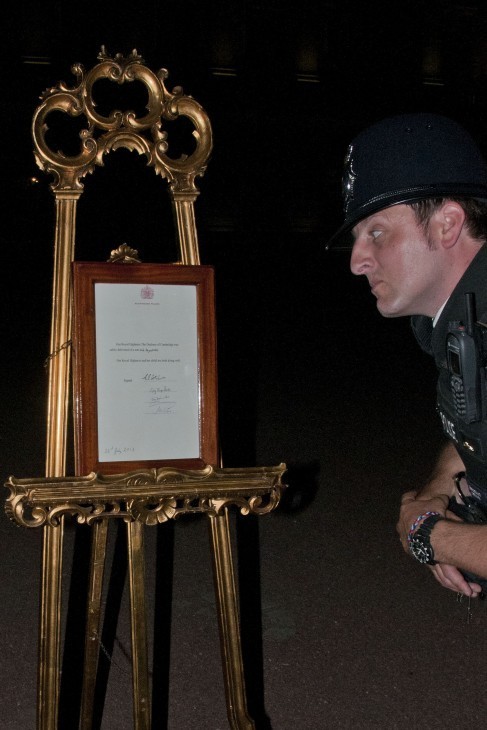 Per tradition, the Royal Family made the announcement with a simple posting outside of Buckingham Palace, as police looked on.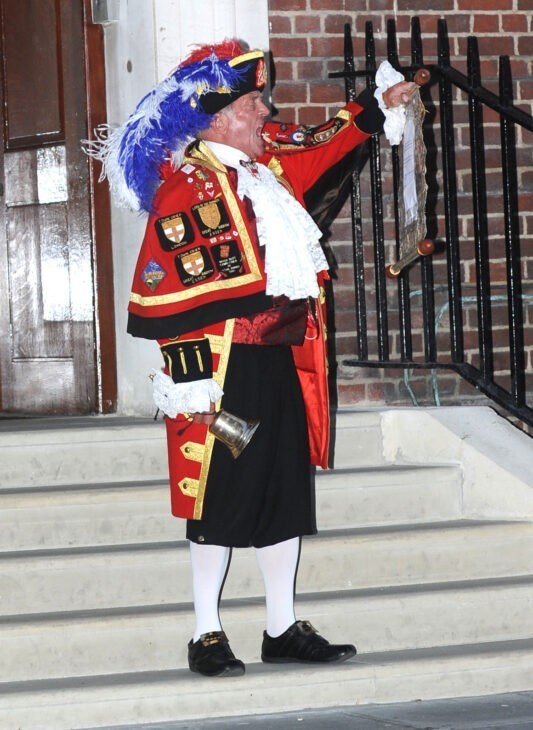 But if the Royal Family was low-key, not everyone was. Here's town crier Tony Appleton, screaming his head off as he announces the birth shortly afterwards. Not in any official capacity, it seems — just a bit of self-promotion. [Update: yup, we were right. He also does bar mitzvahs.] That kind of chutzpah is how you get to be "President of the Guild of International Millennium Town Criers and [recipient of] the coveted 'Town Crier of the Year' awarded by the International Town Criers Authority."
The Prince of Cambridge is only a placeholder name of sorts; no other name has been released yet. The boy was a healthy 8 pounds, 6 ounces, and was born at St. Mary's Hospital in Paddington, West London. That's the same hospital where the late Princess Diana gave birth to Prince William in 1982.
A suite in the exclusive Lindo Wing, where the birth took place, is said to cost £6000 a night. (That doubles what Kim Kardashian splashed out for her birth last month, don't you know.)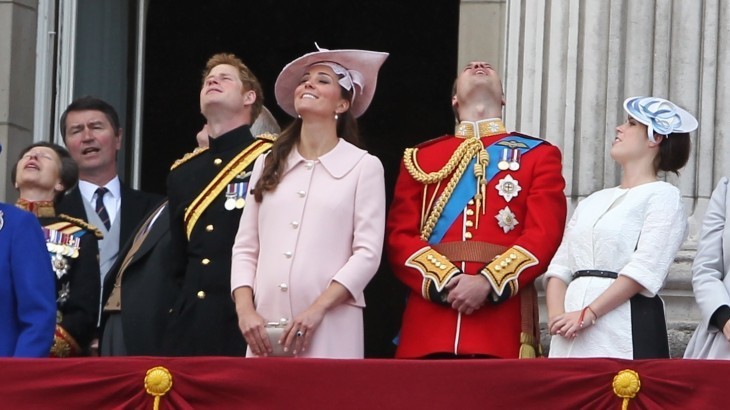 Here's a gratuitous shot of how the Duchess of Cambridge looked while pregnant, just last month during Trooping the Color.
The Duchess has officially made her mark on history. Her new son has edged aside his Uncle Harry for the position of third in line to the British throne, after Prince William and the baby's grandfather, Prince Charles. Not to rush anything, but if Prince William lives to be a hearty 85, the new lad can expect to take the throne in 2067.
Congrats to the whole clan.
See our full Prince of Cambridge biography »