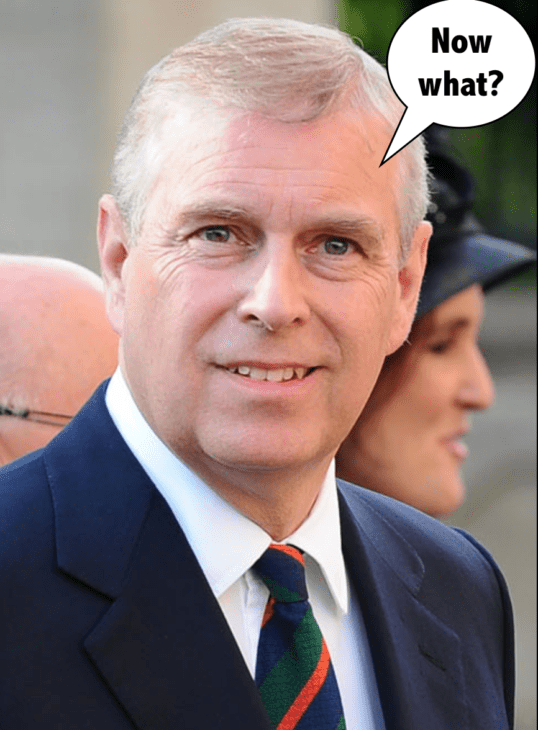 So Prince Andrew is leaving public life "for the foreseeable future," thanks to his ghastly judgment in befriending pedophile millionaire Jeffrey Epstein and his ghastly judgment in talking about it with the BBC. It's never a good sign when a search for your name plus "disastrous interview" returns 98,600 hits.
That "foreseeable future" could be for, say, four years until he returns to the public eye in some carefully orchestrated rehabilitation. Or it could last for 40 years until the angel Gabriel comes down to blow the final trump over his deathbed in the year 2059. That's a wide swath of territory to cover.
A statement by His Royal Highness The Duke of York KG. pic.twitter.com/solPHzEzzp

— The Duke of York (@TheDukeOfYork) November 20, 2019
Prince Andrew, born in 1960, is currently 8th in line of royal succession. Which means that his mother, his brother, his brother's two sons, and all four of his brother's son's children (including leading candidate Prince George of Cambridge) would have to get hit by a double-decker bus before the crown of England would be placed upon his head in a smashingly elaborate (if muted, due to all the deaths) ceremony in Westminister Abbey. You can't count on that.
The question becomes, then: What do you do with yourself all day if you are the 59-year-old member of the Royal Family who is retired from public life? You've got the best medical care in the world, so you won't be dropping dead anytime soon. (Not like your grandfather, George VI, who was three years dead at this point.)
Andrew's 200 (!) charities, excellent though they may be, want nothing to do with him. So that's out. No board meetings, no public meet-and-greets, no dinners celebrating 10 million pounds raised for the cause. (Although to be honest, missing those events might actually be a relief.) He's even out as chancellor at the University of Huddersfield.
Even the odd "salute to naval aviation" (above, with Andrew joined by Leon Panetta in 2011) is out.
Needlepoint? Chess with a paid and polite aide-de-camp? Good lord no. Long daily walks through London? It's a lovely idea, but not with the paparazzi about. Even if there's a secret back-alley exit to Buckingham Palace and Andrew could sneak out of the odd morning, he'd be spotted before he got 10 steps.
There can't be *that* much in the way of palace intrigue these days to hold one's interest: the Queen is 93 and shows every sign of making a strong run at 100. Prince Charles is 71 and still the lad in waiting — bad luck to him, but it's not going to help Andrew fill up his days.
The prince could meddle in his daughter's affairs, of course. Eugenie is already married to a fellow who just couldn't look more boring. Not much doing there. Beatrice is scheduled to marry next spring. Except, oop: That's now a "lavish ceremony at risk." Oh, dear. "I don't think we're going to see Andrew walking around with his family this time," says Russell Meyer, royal editor (really!) for the Daily Mirror. The wedding will be "collateral damage," says The Express.
No charitable functions, no ceremonial dinners, no second-class royal weddings, no food-packing factory tours, even. It's not that I feel sorry for the guy, but I honestly don't know what he'll do with himself. How many days per year can you shoot grouse at Balmoral?
Well, there's always the Pizza Express in Woking.