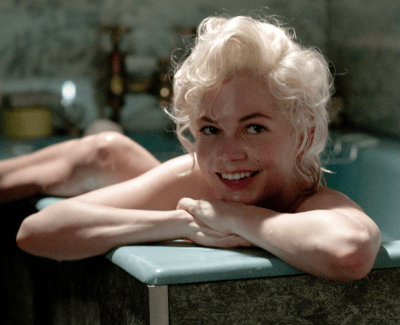 Here are your Oscar nominees for 2012 in the four major acting categories, plus the best director category. Follow that link for lovely photos of each of the nominees in action.
(Except for director Terrence Malick, who doesn't like having his picture taken.)
Here are my personal predictions for the Oscar winners, based on nothing more than a tetchy gut, years of Oscar-watching, and an Emmy award for animation writing:
Best actress: Viola Davis in The Help

Best actor: Demián Bichir in A Better Life

Best supporting actress: Melissa McCarthy in Bridesmaids

Best supporting actor: Christopher Plummer in Beginners

Best director: Terrence Malick in Tree of Life
Best director is the only really tough pick for me. Michel Hazanavicius may take it for The Artist — which I do think will win best picture. But Tree of Life seems like more of an "important" film, even if nobody saw it, and that should carry it for Malick.
Michelle Williams (pictured above) was great as Marilyn Monroe, and Meryl Streep hasn't won for ages, but in the end a good performance in a social justice film always wins out. That's why Viola Davis will win for best actress, and why Demián Bichir will win best actor.
That, and because it's just too hard to vote for Brad Pitt in a baseball movie. He's due, but not this year. George Clooney is out because nobody wanted to see The Descendants.
Christopher Plummer seems like a lock for his body of work (and for taking a "daring" role in old age, if it's still considered daring to play a gay man). And Melissa McCarthy will win because people want to vote for Bridesmaids, which was everyone's real favorite entertainment of the year.
See all the 2012 Oscar nominees »